A beautiful place where swamps, lagoon, large water pools and sand dunes teem with life: birds, wallaby, fish, crustaceans, trees, scrub, flowers and grasses and camped on the beach were people gathering food splashing in the mild water, laughing and dancing together. They usually camped on the higher ground to the east but regularly visited for the excellent hunting and fishing. This was the place we now call 'Port Melbourne' and the people were the Yalukit Willam clan of the Boon Wurrung people. In 1837 the white skinned Europeans erupted into this scene and disrupted it forever.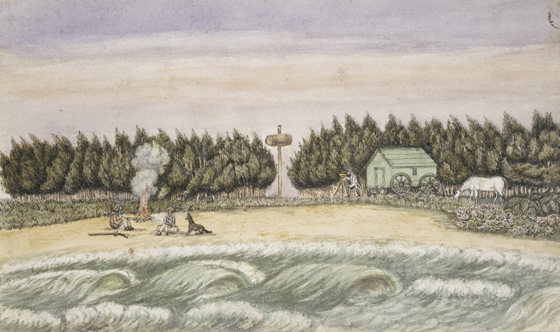 The earliest European person to stay here was William Darke, one of the colonial surveyors who camped on the edge of the tea-tree in early 1839 when he mapped the coast and the lower reaches of the Yarra River. The sketch of his camp site shows a landscape today's residents would not recognise.
In November 1839 the William Metcalfe anchored in Hobson's Bay. Among the passengers was Wilbraham Liardet, his wife Caroline and their nine children. Wilbraham had decided to migrate to New South Wales and take up sheep farming but he was so impressed with the landing place near the mouth of the Yarra that he disembarked the whole family, set up a tent on the beach and decided to settle there.
One of their daughters wrote an account of the family's early years living in Port Melbourne. Josephine speaks of the beautiful clean white sandy beach, covered thickly with a great variety of shells also of the thousands of pretty wild flowers which carpeted the bush behind the tea-tree belt, and of the deafening song of the cicadas in the hot days of summer and the torturing clouds of mosquitos in the autumn.
Wilbraham turned his attention to improving the track to the town. Josephine says he was working like a navvy himself in his white duck trousers, a jersey, and a big sombrero.
The Liardet family began to trade as hotelkeepers from their temporary hut on the beach before building the first Pier Hotel on the corner of Bay and Beach Streets, where a Pier Hotel still stands.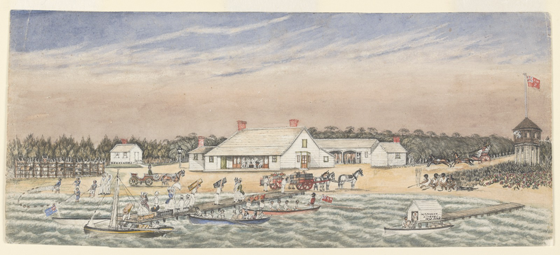 This image of Liardet's Pier Hotel was painted by Wilbraham in 1874 and represents his recollection of what it was like when it was first built and advertised in the Melbourne press as being Brighton by the Bay.
The sketch map below shows there were two hotels in the area by about 1840, the Pier Hotel and the Marine Hotel.