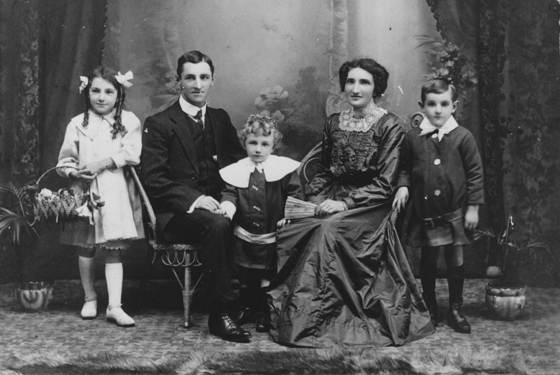 In 1910 Railway Pier was always crowded with ships and the rail freight carriages that transported cargo directly to and from the ships and Spencer Street Station. Although overcrowding on the pier was a serious problem, work on "New Pier" was not completed until 1915 under the increased pressure of war. (New Pier was later renamed Princes Pier).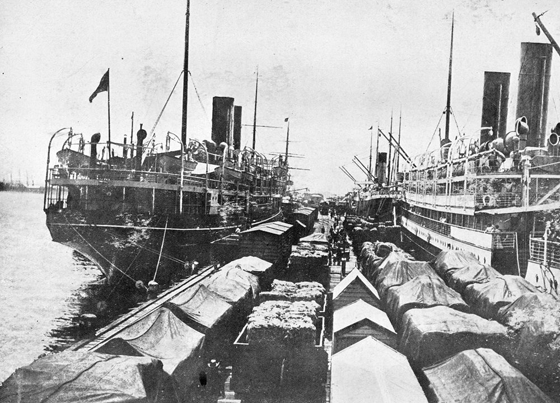 On New Year's Day 1910, the editor of the Standard newspaper wrote his editorial to the paper's readers in Port Melbourne the following message of smug optimism:
… – we might say daily – the cultivated intelligence is bringing forth from Nature's repository beauties never before known. … The mind of today is shocked at the records of a hundred years ago, and the civilisation of the good old days is barbarism today. And who can tell what the next few years will unfold. The Standard, 1 January 1910, p2
It is ironic that such words were published in the lead up to the disastrous events that unfolded in 1914. Before the end of that year Australia was embroiled in the European Great War. The residents of Port Melbourne would become all too familiar with scenes like this.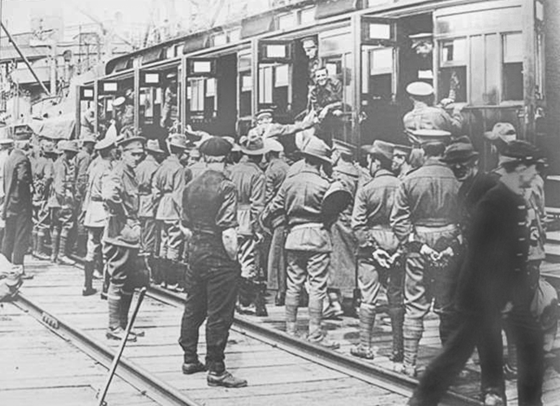 Many young men left to fight in the Middle East and France while at home civilian efforts supported them. The women working at the factory of Swallows and Ariell, one of the most prominent businesses in Port, formed The Busy Bee, to send parcels of food and handmade clothing to men overseas.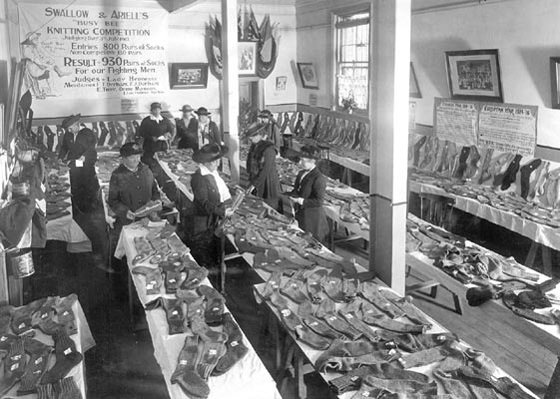 As the war dragged on the prices for food and fuel rose but wages did not keep up, unemployment increased and the people of Port Melbourne became increasingly disillusioned and angry. In 1917 this erupted in a series of food protests. It was well established that cool stores were full of food yet food supplies in local shops were scarce and over-priced. On August 15th a crowd of over 2,000 met on the steps of Parliament House led by the Women's Peace Army. Among them was Port Melbourne woman Mary McLeavy and her friend Jennie Baines who later also became a resident of Port. On a later occasion a similar protest meeting led to a serious riot in which an attack was made on the Dunlop Rubber factory in Montague.
When the war ended, and before the onset of the Spanish Flu epidemic, welcome home events were organised for returned servicemen.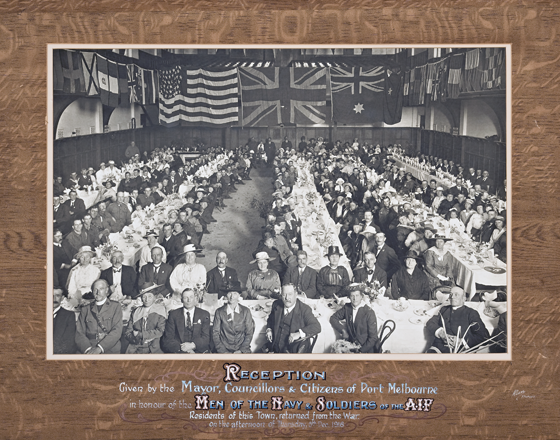 This photograph shows an afternoon reception given at the town hall by the Mayor, Councillors and Citizens of Port Melbourne in honour of the Men of the Navy and Soldiers of the AIF, 5th December 1918. That same evening a Smoke Night (for male attendees only) was given in honour of the returned men also at the town hall.
Very shortly afterward other such events had to be cancelled when the flu pandemic closed all public gatherings in Victoria. The Nott Street School became a fever hospital and the Excelsior Hall in Bridge Street a treatment facility.