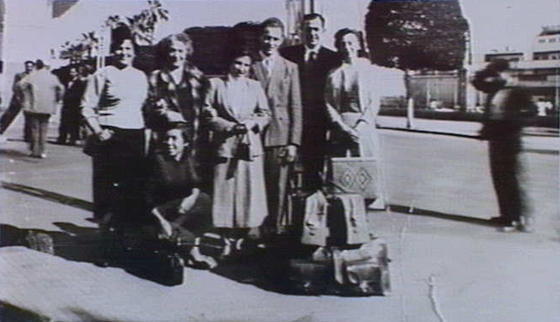 The decade 1950-1960 was a decade of an immigration revolution in Australia. The photograph above was taken at Station Pier in 1951, it would be easily recognised by any one of the two million immigrants who arrived in Australia between 1945 and 1964. These included the first non-British migrants given government assistance for their fares.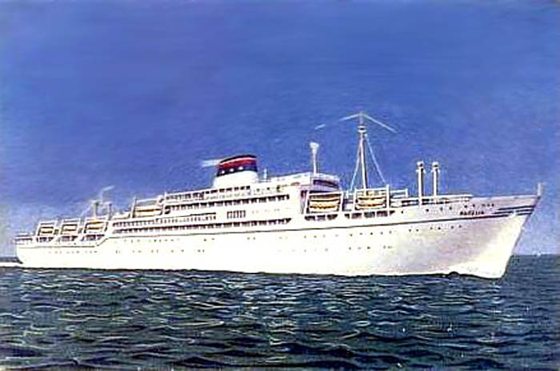 The Aurelia, a ship of the Cogedar Line made regular voyages between Genoa and Port Melbourne. Calling at Fremantle and Adelaide.
After the war the housing authorities placed demolition orders on a number of houses in Port Melbourne, allowing the existing owners to remain in them, in most cases, but preventing the house being sold for occupation. Growing up in Port Melbourne at this time, Glen Cosham remembers the streets with empty blocks of land as these orders were executed.
Early in the decade the final Garden City houses were completed.
Many local people would have identified the 1955 split in the Labor Party as the key event of the decade. The waterfront workers had been important participants in the confrontation between supporters of Santamaria's "groupists" and the remainder of the party membership. In 1955 the Victorian branch of the Labor Party split into the 'old Executive' who supported the 'groupists' and the 'new executive'. The latter declared the Port Melbourne branch 'bogus' and expelled 88 of its 100 members so it is no surprise that local feelings ran high. In the state election of 1955 Archie Todd stood for the 'Cain Labor Party' against T P Corrigan for the 'Anti-Communist Labor Party', an election that was one of the most bitterly fought elections most voters had ever experienced.
Archie Todd was elected and served as the member for Port Melbourne from then until the boundaries were redrawn in 1958. He then transferred to the province in the Legislative Council.  He was a great advocate for better housing for workers in Port Melbourne, fighting hard for a housing development that was finally built in Barak Road.
One of the most significant policy advances in the 1950s was to make secondary education available to everyone. Up to this time many students in the government school system finished their education in Grades 7 and 8 in their primary schools.
From 1950 Port Melbourne pupils from Nott Street and Graham Street Primary schools went three ways, based often on a selection examination in Grade 6.  A few went to Middle Park Central School (below) and then to Melbourne Boys High or MacRobertson Girls High Schools.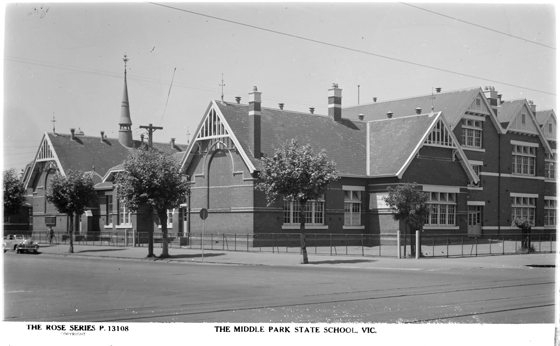 The other two schools available locally were South Melbourne Technical School (below) and the J H Boyd School for Girls. At the time there was no local co-educational secondary school in the area.