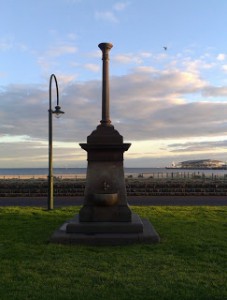 What is a monument to railwaymen doing on the foreshore so far away from trains?
The monument commemorates engine driver Frederick William Maskell and fireman James McNab who, along with three passengers, were killed in a rail accident at Windsor in May 1887. Maskell was 46, McNab 21. One hundred and fifty four people were injured. Mr Maskell was driving an express train when it ploughed into the back of an ordinary train which had broken down just before Windsor Station. Only his presence of mind in pulling on the steam brake of his engine seconds before he was crushed prevented the accident from being much worse. At the subsequent inquest, it was revealed that an untrained station hand was left to apply the steam brake before he and his fireman were killed.
The loss of the two Port Melbourne citizens galvanised a strong local response and fundraising for a memorial soon began.  On Wednesday 16 July 1890, around 350 people, including Mayor Plummer and Councillors, gathered at the unveiling of the monument in Graham St near the the intersection of Station and Princes St.
The monument was re-located to the foreshore when the Graham Street overpass was built. Along with the monument went a mini-community of shops and pubs centred on the rockeries, see image below, which shows that the monument once had decorative features that have since been lost.
The Maskell and McNab memorial fountain was designed by architect J B Grut. His hand can also be seen in the second storey addition to Chequers/Bay & Bridge as well as the former South Suburban Building Society (currently occupied by SAM Sales and Marketing in Bay St)
postscript: The City of Port Phillip heritage team commissioned new light and sculptural infrastructure for the fountain. Since it was not possible to faithfully reproduce the original, an interpretation of the original was designed. Here it is being installed in February 2017.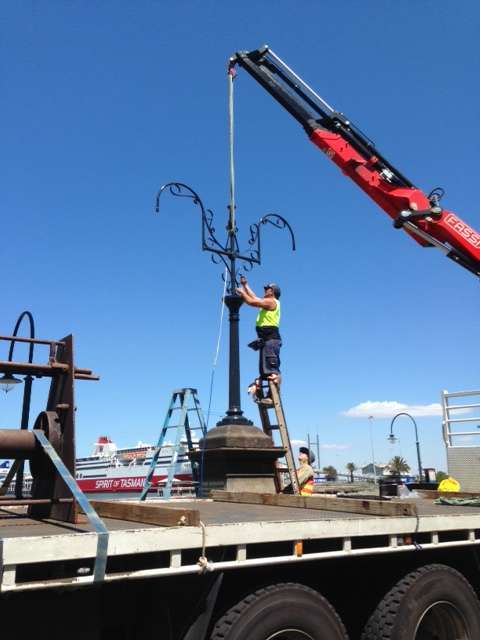 Sources and further information
Monument Australia lists all monuments in Australia
Railway Rockeries: Tales of the Melbourne and Hobsons Bay Railway Reserves – a Port Melbourne Historical and Preservation Society publication available for free from the PMHPS Shop.