The difference between joy and frustration in local history research is being able to find things. This was a theme of Monday's meeting. Further integrating the Society's computer records, catalogue database and paper files will make it easier for researchers to find what they're looking for in the fascinating PMHPS collection.
Steve Tserkezidis, guest speaker, brings a particular tenacity to finding. He has been methodically searching the Public Record Office Victoria (PROV) database for Port Melbourne and Montague material. With only a fraction of the PROV's records online, finding the gold in the paper based records means a visit to the archives and an examination of each file. Some yield nothing. Others hold exciting records that have never been seen before by members of the Society.
His particular fascination is with that group of houses you glimpse just north of the Montague station on the way to the city on the 109 tram service. Until uncovering these files, Steve, a bank house dweller himself, had thought that the Garden City bank houses were the only ones to have been built by the State Bank.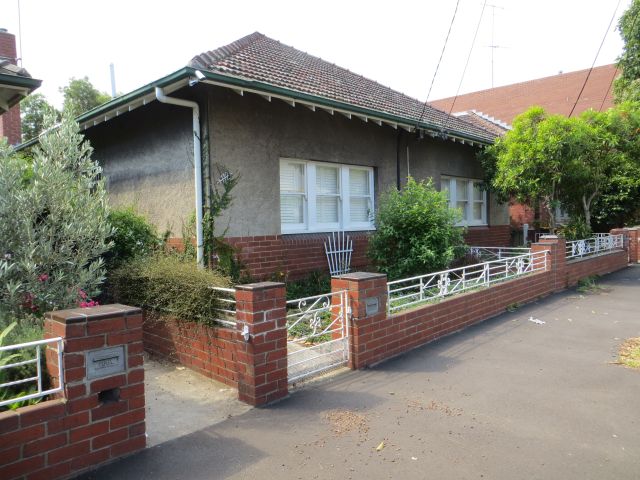 The houses in Gladstone St, Montague came to be built in this way. The South Melbourne Council bought the low lying flood prone land and the poor housing on it. The 24 houses were demolished and the land made ready for housing. The site was then divided into 18 allotments. The State Bank then managed all aspects of the project: providing the home loans and appointing the builder. Of the original 18 houses, only 9 remain. Steve has located the plans and all the correspondence associated with their construction. His exciting finds will be shared with Society members over time.
Finding demands a particular kind of organisational diligence that comes naturally to some and requires application and discipline in others. Make it your plan to file well, record the source of your information, and name the people in your family photographs. And don't forget to add the date!
Resources
Montague Housing Scheme Age 16 December 1938
Public Record Office Victoria is at 99 Shiel St, North Melbourne and is open Monday to Friday 10 to 4.30 pm, and the second and last Saturday of every month.