Princes Pier and the Piers Festival
Princes Pier is the main stage for the Piers Festival hosted by Mutlicultural Arts Victoria this Saturday.  A highlight of the programme will be the migration forums but you must book – they are very popular.
It seems like a good time to talk about Princes Pier and how another pier came to be built in Port Melbourne.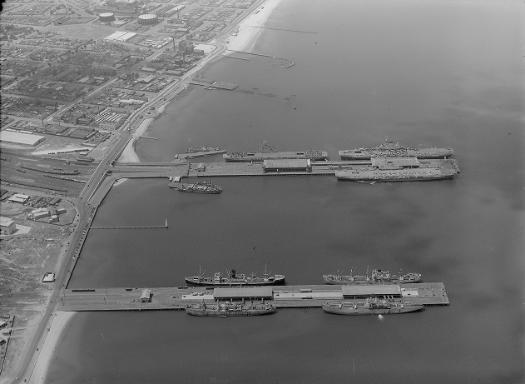 At the turn of the twentieth century, the need for more shipping accommodation was pressing – but what form should it take? Some argued for piers, some for docks, and others preferred the idea of the 'straight cut' directly from the city to the bay. Debate raged in the papers over several years as to the best investment for the future.
Here is a strong argument against piers
"It provides only for the needs of today, and lets the future take care of itself. … As well as being temporary and expensive, a pier is incapable of giving shippers any of the ordinary modern facilities for handling cargoes, and it provides a species of accommodation for ships which has long been considered obsolete by engineering science … It would certainly be cheaper to build a pier… but the common sense of the public may well be trusted to discern a greater advantage in spending 400,000 in an undertaking of assured permanence which would bring Melbourne into line with the needs of her dignity and national importance, than in wasting 200,000 on a work which must ultimately be the food of harbour worms." Age 4 February 1907
Eventually, the decision was made in favour of a pier connected to the rail network. At first known as the New Railway Pier, it was renamed Princes Pier after the visit of the Prince of Wales, Edward son of King George V (and later Edward VIII) in May 1920.  The first ship to berth there in 1914, even before it officially opened,  was HMAT Star of England.
Not long after the pier opened, neighbouring Railway (later Station) Pier underwent a major reconstruction following which it became the preferred pier for shipping. There was also a downturn in shipping in the depression years. In 1931 only four ships berthed at Princes Pier. The second world war and subsequent post-war migration saw the Pier fully utilised.
These ups and downs led A C Cook to speculate in the Port of Melbourne Quarterly that "If a Pier can have a personality – be uncertain of itself, maybe suffer from an inferiority complex, then Princes Pier would qualify for such a distinction." (December 1951)
Princes Pier languished after it was closed to shipping in 1989 until restored in truncated form and re-opened to the public in 2011.
Do you have a Princes Pier story?
Sources 
Port of Melbourne Quarterly October to December 1951 p22 and 29
History of the Pier, Major Projects Victoria