The First Sandridge Fire Brigade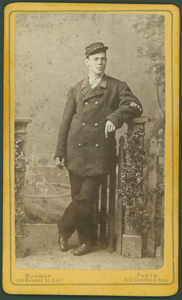 With bushfire alerts all over ABC radio this week and the lingering smell and haze of smoke in the air my eyes were drawn to the Society bookshelves and a great little publication called 'Fire in the Borough' by Shirley A Videion.
Videion traces the story of fire and Fire Brigades from the early Sandridge days through to the building of Port Melbourne Fire Station No 41 in 1939 at the corner of Graham Street and Williamstown Road.
Sandridge's first Fire Brigade was formed in the aftermath of a series of fires in 1855. The first fire struck in Gameson and Nankerville's store in Bay Street in the early hours of January 23. It was the middle of a heatwave and the flames were fanned by a hot north wind. No doubt the gunpowder stored in their cellars didn't help the situation either.
With only the Volunteer Brigade of Emerald Hill (South Melbourne) and the various Insurance Company Fire Brigades based in Melbourne many buildings and tents were destroyed in just a few hours before the wind swung around and pushed the fire north-easterly towards Graham and Liardet Streets.
By morning a large area of Sandridge had been reduced to smouldering ruins. As Videion writes …
The fire destroyed sawmills, stables, coffee works general stores, hotels, the theatre, dining rooms, sixty houses and twenty tents.
A second fire hit Bay Street on September 9. It is believed to have started in one of the upstairs bedrooms of the Ship Inn and spread to several neighbouring buildings including the butcher shop of Mr May, an ancestor of PMHPS Vice-President, John May. Eventually the gable end of the Chusan Hotel stopped the fire sparing further destruction.
When a third fire destroyed several buildings a month later a public meeting was held at the Marine Hotel and it was resolved to form a volunteer Fire Brigade and work towards acquiring a fire engine. As a result the Sandridge Watermen offered to form the nucleus of a loosely organised Volunteer Fire Brigade.
The more things change, the more things stay the same. Almost 160 years later there are still many CFA Volunteers fighting fires all over Victoria. Our thoughts and best wishes are with them. Stay safe.
David Thompson
Sources and further reading
Videion, S A 2007, Fire in the Borough, 1st Ed, H Merrick-Andrews, Mordialloc
U'Ren, N & Turnbull, N 1983, A History of Port Melbourne, 1st Ed, Oxford University Press, Melbourne