Anzac Day in Port Melbourne 2014
'We will honour them by being silent' 1
Perce White was the MC for the 2014 commemoration of the Anzac landing at Gallipoli.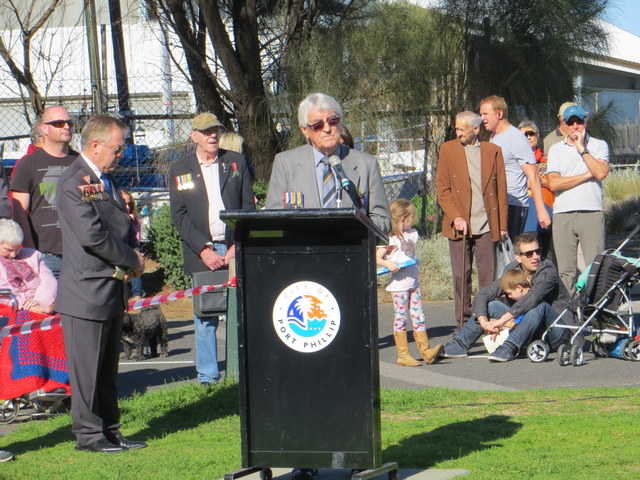 It was one of those perfect Port Melbourne mornings that make people love living in Port more than ever. About 500 people gathered for the Anzac Day commemoration.  The Piers provided the evocative backdrop to the service, and  a reminder of how strong the presence of war would have been in the life of Port Melbourne in 1915.
Across 'a bridge of time' the acts of service and the unprecedented death toll were laid before the gathering for reflection and remembering.
Passing fire engines in full siren disturbed the quiet attention of the crowd.
Martin Foley MLA connected the war with the waterfront in speaking of the Whittaker family. Allan Whittaker was wounded on that very first day in Gallipoli. He carried that wound until he was shot and died in the bitter waterfront dispute of 1928. His brothers died on the western front. The role of nurses based on Lemnos and the connection with the Greek community was also recalled.  Martin Foley drew on these stories to invite us to reflect on how we support one another as a community.
The Society's John May joined others, including members of the community, in laying a wreath.
"Well citizens . . ."
Perc White, many times mayor of Port Melbourne, wrapped up proceedings with this rallying call to the citizen in all of us to play our part in this community. All were asked to renew the pledge to maintain our own personal Anzac remembrance until we gather again next year for the 100th anniversary of the Gallipoli landing.
Afterwards, some cyclists paused – unusually – to look at the wreaths and pay respects through the moment of silence attendant on composing a photograph.
1 Allan Paul, guest speaker,  entertained troops in Vietnam.