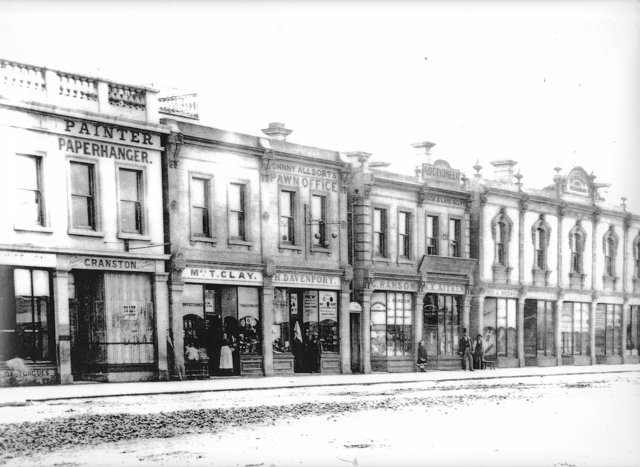 Some of the early items added to the PMHPS collection were three very large pawnbroker's pledge books. They were found in a chimney in Bay Street, from the Johnny Allsorts Pawnbrokers. They contain thousands of poignant transactions involving most Port families during Australia's severe Depression 1891 to 1898.
The shop pictured here in 1875 at 239 Bay with pawnbroker Davenport out the front was later taken over by Robert and Elizabeth Powell. The Powell family ran Johnny Allsorts through the depths of the 1890s depression, and on into the 1920s — almost until the next Great Depression.
Pawnbrokers, always big in port towns, were essential to Port Melbourne life. Times were tougher here than in many other places, and the opportunity to gain a few pennies by parting with a kettle or a petticoat had saved many a family from starvation.
It was usually the wife who in her desperation pawned the items, often entering from Lalor Street along a narrow walkway between the shops to avoid being seen entering in Bay Street. Many were never redeemed.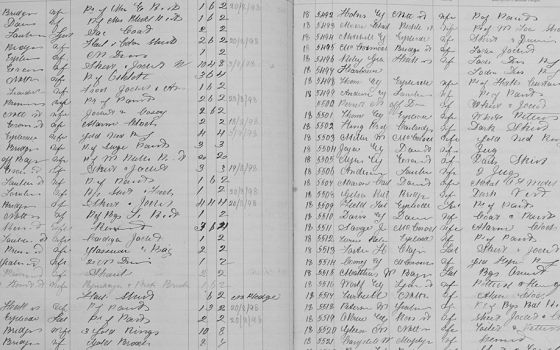 Over 7,000 documents, photographs, maps, books, old council records, oral histories and historical items have been preserved for posterity by PMHPS in just over 20 years.  They are available to anyone researching Port Melbourne's history.