It all began with a mistake. Dr Robyn Clinch, member and guest speaker at the July meeting, was surprised to learn that her interesting house in Port was not mapped as significant whereas her neighbour's 1980s house was. She later discovered that it was an error in the original mapping software, since corrected.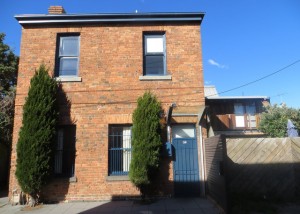 This puzzling circumstance as well as the research on the house and its former inhabitants led to Robyn undertaking a PhD thesis on heritage studies in Victoria, the subject of her talk. Robyn outlined the history of heritage studies and Australia's changing attitude towards its past and what has been considered worth conserving.
Outstanding individual heritage advocates such as academics Professor Miles Lewis and Professor George Tibbits were instrumental in getting some of the first heritage studies underway. Since the early advocates were architecturally trained, there was a strong architectural and building emphasis in the interpretation of importance of a heritage place. More recently, social considerations have come more to the fore. At first, it was only the grand that was considered worthy of retention but over time the scope of heritage has expanded to include all the buildings and places that tell the story of Victoria.
From a generous policy and funding start in the 1970s, funding for and interest in, heritage studies has waxed and waned over the years. Port Melbourne's first conservation study was done in 1979. Every council in Victoria has now undertaken a heritage study. Over time the requirements for heritage studies have become standardised leading to common expectations across the state. They have also become more onerous (and expensive) to prepare.
The detailed investigation underpinning a heritage study is immense. Dr Clinch herself has undertaken a seven month photographic streetscape study of every street in Port Phillip. Andrew Ward reviewed 14,000 properties for the 1998 heritage study on that most convenient vehicle for observation, the bicycle, using that reliable tool a notebook.
Statements of Significance are an important outcome of the research done in a heritage study. To be useful, these must explain clearly and succinctly what is significant about the place by answering the questions of what, why and how it is of significance. This is crucial to the planners who then have to take these statements into consideration when making a decision about the development of a heritage place.
Dr Clinch is a researcher who leaves absolutely no stone unturned in her quest for evidence of the earlier incarnations of houses. Her understanding of heritage matters is invaluable in her role as a planner at Port Phillip. The research is time consuming and material can be hard to find. She brings this thoroughness to her preparation for cases challenged at VCAT.
Heritage has become the domain of the 'expert' and the contribution volunteers can make is perhaps overlooked. Since resources are scarce, Dr Clinch wondered whether the research skills and expertise of historical societies could be drawn upon more fully to the advantage of all concerned.
Between the heritage study and the implementation of heritage policy on particular applications can lie a sensitive gap. The Burra Charter, the guiding document on cultural significance, is not incorporated within the Port Phillip planning scheme. This makes its capacity to influence contested VCAT cases limited.
Broader philosophical questions were raised in the discussion about heritage conservation such as
Do we not value more recent buildings?  The Seamans Mission was given as an example
Do other states place more of a priority on heritage?
With houses not built to last or with an eye to the future, 'staggering into the 21st Century', at what point does the building fabric become unrealistic/impossible to conserve?
Where do our collective memories lie – in the fabric of buildings or via plaques and interpretation that tell a story?
How to balance change and conservation?
Do young people value heritage?
Troubling examples that members have observed around Port such as 27 Alfred Street and 143 Station Street  prompted further discussion about the particular circumstances surrounding these applications.
The simple yet overriding point was perhaps not as strongly made as it could have been. If a dwelling is not covered by a heritage overlay or specific significance citation it cannot be protected from demolition.
Sources and further information
Dr Robyn Clinch *"The places we keep: the heritage studies of Victoria and outcomes for urban planners" https://minerva-access.unimelb.edu.au/handle/11343/37291
Dr Robyn Clinch Urban form and design outcomes of heritage planning policies in inner Melbourne
http://www.soacconference.com.au/wp-content/uploads/2013/12/Clinch-Structure.pdf