Documenting change
PMH&PS is fortunate to have in its collection an impressive number of photographs taken by Ron Laing (1920 to 2003)
Ron Laing spent the years between his retirement in 1984 and the end of his life documenting the massive change that was taking place in Port Melbourne through that time.  'I'd heard that things were going to change round here', he said.  He walked around Port with his dog from his home in Albert Street, camera in hand. Over the period, he used six different cameras and a range of lenses. Every now and again he would bring a new batch of photographs into the Society.
An example from the collection is a series of photographs, showing the Eastern Kiosk being re-positioned by being lifted and turned 90 degrees when the pier was being remodelled at the time of the development of Beacon Cove in the 1990's. The Western Kiosk (Thirst Aid Kiosk} was demolished at this time.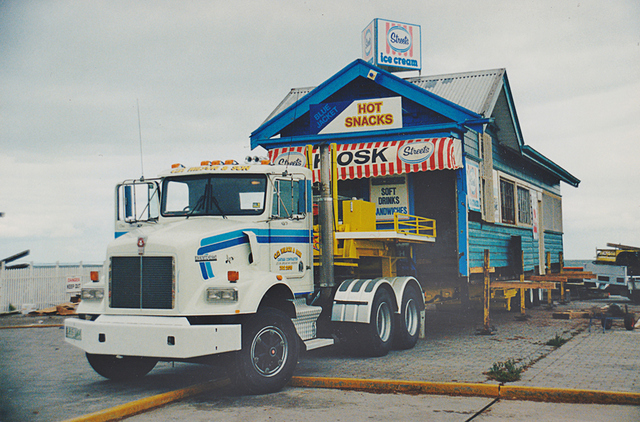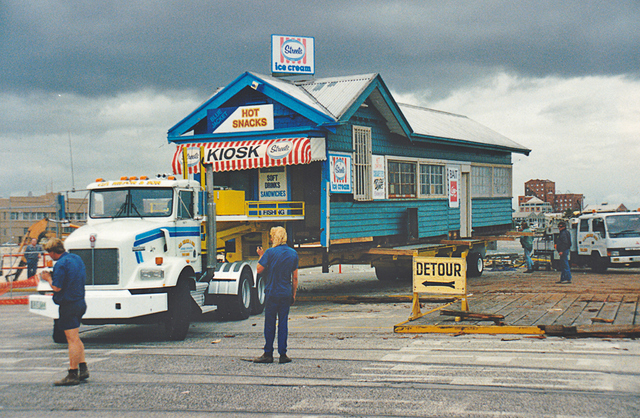 Ron had been interested in photography since he was a youngster. Born in East Berwick in Scotland, he was a flying instructor during the war, and arrived in Australia in 1950. He worked as a forklift driver and a machine operator with the Melbourne Harbor Trust. When containers came in they didn't need him anymore and he went to work for an importer/exporter unloading containers.
Thanks to Ron Laing's self initiated project, the PMH&PS has an excellent record of this unique period in Port's history.