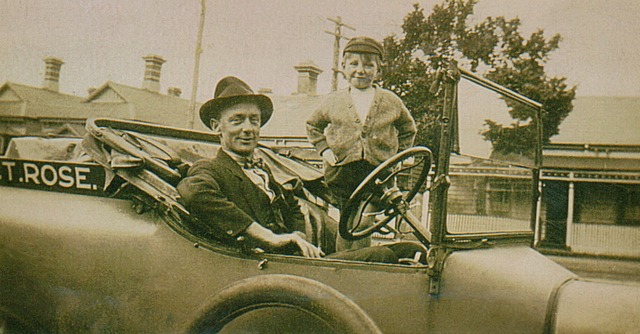 Roland Thomas Rose, Licensed Grocer of 168 Ross Street, Port Melbourne, the proud owner of his 'company' car.
In the mid 1930's, some ten years after this photograph was taken, Roland was tragically killed in a car accident on the corner of Ross and Graham Streets.
The small boy standing on the running board is his son, Frank William (Bill), who was only fourteen at the time of his father's death.
Bill continued to live at 168 Ross Street as his mother, Hilda Annie, took over the running of the business assisted by her sister, Sadie Ford.
This evocative photograph has been donated to the PMH&PS by Roland and Hilda's granddaughter. The shop, although much altered and run for many years as a hardware store, can still be seen in Ross Street between Farrell and Graham Streets.