Douglas, Leslie Victor (517)
Place of Birth: Ballarat, VIC
Age: 25 years 6 months
Enlistment Details: Monday, 12 July 1915 – Melbourne, VIC
Service Number: 517            view online service record
Address:
397 Bay Street
Port Melbourne, VIC
Next of Kin:
Samuel Douglas (father)
397 Bay Street
Port Melbourne, VIC
Embarkation Details:
Date: Wednesday, 10 November 1915
Ship: HMAT Ascanius A11
Port: Melbourne, VIC
Unit: 29th Infantry Battalion
Fate:
DOD: Monday, 10 November 1919
Place: died of influenza and was buried at sea
---
Brother: Arol Bryce Douglas
Private, 29 Infantry, died from illness, 16 November, 1918, France, aged 28, commemorated Villers-Bretonneux Memorial, France.
Parents: Samuel and Elizabeth DOUGLAS, Brother: 2765, Arol Bryce DOUGLAS, killed in action, 7 June 1917. Born Ballarat, educated Nott Street SS, Port Melbourne, 397 Bay Street (dairy produce). He enlisted as a 25-year-old iron worker with his mother at 397 Bay Street, circular from same address. He died at sea from acute influenza while returning after being wounded in the left arm. Buried at sea, commemorated Bridge Street Presbyterian Church.
Additional research by Brian Membrey
---
Claud T Smith and Leslie V Douglas were given a send-off by the Presbyterian Church on the evening of 21 October 1915.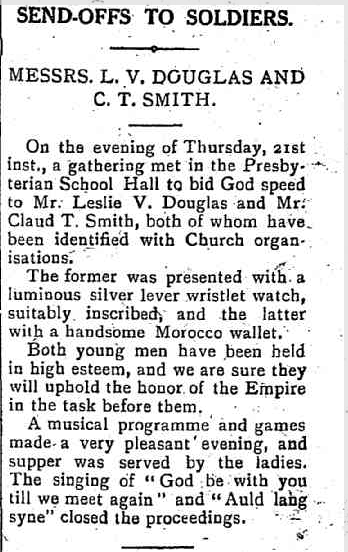 1915 'SEND-OFFS TO SOLDIERS.', Port Melbourne Standard (Vic. : 1914 – 1920), 30 October, p. 2, viewed 2 October, 2015, http://nla.gov.au/nla.news-article91167291
L V Douglas is listed on the Roll of Honour for the Port Melbourne Branch of the Protestant Alliance Friendly Society (PAFS)
1917 'PORT P.A.F.S.', Port Melbourne Standard (Vic. : 1914 – 1920), 20 January, p. 3. , viewed 29 Dec 2016, http://nla.gov.au/nla.news-article88370019
1918 'In Memoriam Service.', Port Melbourne Standard (Vic. : 1914 – 1920), 30 November, p. 2. , viewed 23 Nov 2018, http://nla.gov.au/nla.news-article88368517