Place of Birth: Port Melbourne, VIC
Age: 29 years
Enlistment Details: Thursday, 20 August 1914 – Melbourne, VIC
Service Number: 654            view online service record
Address:
30 Sussex Street
Yarraville, VIC
Next of Kin:
William Thomas May (father)
111 Princes Street
Port Melbourne, VIC
Embarkation Details:
Date: Monday, 19 October 1914
Ship: HMAT Benalla A24
Port: Melbourne, VIC
Unit: 1st Divisional Train – No 3 Company
Fate:
RTA: Tuesday, 8 October 1918
Discharged: Friday, 31 January 1919
---
Brother: Edward May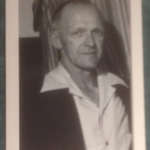 Tasker May was born in Port Melbourne in 1885, the eighth of eleven children to William Thomas May and Eliza (Walker). William and Eliza were both born in England and married 1 May 1869 at St James Church, Melbourne.
Tasker's elder brother, also named William Thomas May, was born in 1871 and served as a Port Melbourne Councillor in the 1930s. His brother, Edward, who was born in Sandridge in 1879 died in 1900 while serving in the Boer War. Tasker also served in the Boer War.
In 1905, he married Ethel (Bell) in Yarraville. They had three children but Ethel died in 1923 in East Melbourne. Tasker married Ethel's sister Grace in 1924 and had two sons.
Tasker died 18 February 1965 in Heidelberg, VIC.