19 October 2014 – First Convoy Embarkations Commemoration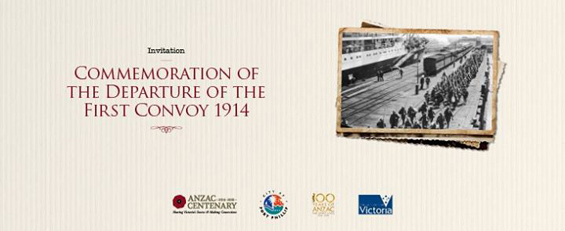 One hundred years ago, thousands of Victorians embarked from Port Melbourne bound for the battlefields of World War One. By the end of October 1914, 17 troopships had left Victorian shores carrying almost 8,000 troops as well as nurses, technicians, horses, supplies and weaponry. This was Victoria's First Convoy.
To mark the centenary of this historic departure, the State Government of Victoria has partnered with the City of Port Phillip and the Department of Veterans' Affairs to present a free commemorative event at Princes Pier. 
The event will take place between 4pm and 8pm on Sunday October 19, 2014.  Register now for your free tickets.