Wings over Fishermens Bend
The aerodromes of Fishermans Bend and Port Melbourne are no more. Graham Street Aerodrome disappeared under industrial buildings, Garden City covers Port Melbourne Aerodrome, Coode Island Aerodrome is part of Swanson Dock, while roads fragment the site of Fishermens Bend Aerodrome.
Aviation first arrived at the Bend when aviation pioneer R Graham Carey, with financial backing from the Mayor of Essendon, Cr Arthur Fenton, purchased four aircraft from the Defence Department after World War One. They established an airstrip on waste ground at the western end of Graham Street. Joy-flights started on 21 April 1919 and, in 1920, the Melbourne Air Service was established 'to give instruction in the art of flying in the neighbourhood of Melbourne'.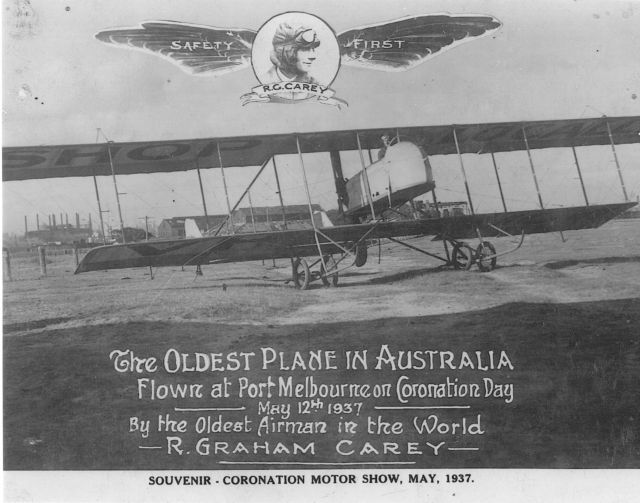 Then came the first licenced airfield. On 30 May 1921, Aerodrome Licence No.1 was issued for the Fishermens Bend Aerodrome, 'behind the dunes' in Ferry Road (now Williamstown Road).
On 22 May the following year, tragedy struck. Pilot Hubert Ross conducted a joy-flight for Cyril Harris and Jessie Dorman. When heading towards the Bay, the aircraft suddenly spun and crashed into the yard of a cottage. There were no survivors.  Being possibly the first aircraft accident investigation in Australia, the Superintendent of Aerodromes wrote: 'I am of the opinion that the accident was due to the unfortunate jamming of the heel of Miss Dorman's shoe, thereby rendering the rudder control useless and causing the machine to dive to the ground'.
In what has been called a 'Yes Minister'-like script, there was six years of wrangling between the Victorian and Federal Governments over building another airport at the Bend. It started in 1930. The State Government held firm. The Premier, Sir Stanley Argyle, was opposed to land being 'sacrificed for use as an airport'; the site might be required for 'warehouses, stores, factories and homes for workers'. It was noted that his conservative government could hardly be said to represent the workers.
The Canberra Times (23 March 1935) reported that "efforts are being made by the Commonwealth Government to induce the Victorian Government to convert Fishermen's Bend, Melbourne, into an aerodrome". That year the new Premier, Mr Albert Dunstan, said that he was not in favour of an airport at the Bend. In May 1936, Dunstan agreed to reconsider the matter but was adamant that the government would not budge. But on 11 November 1936, Dunstan announced that 140 acres had been set aside as an aerodrome for the newly established Commonwealth Aircraft Corporation (CAC).  Fishermans Bend Aerodrome was constructed near the confluence of the Yarra River with Port Phillip Bay.
References and further  information
Martin, Desmond. & Carey, Bertha Gladys. & Martin, Edith.  2004,  A message from the clouds : a biography of Robert Graham Carey : Australian pioneer aviator / by Des Martin and Bertha Carey ; editor Edith Martin  Edith Frances Martin Croydon, Vic
Fishermen's Bend – Aerodrome in Heart of London – Commonwealth Negotiating  http://trove.nla.gov.au/ndp/del/article/2387865