Birth and demise of Holden at Fishermans Bend
It was a defining moment for the nation. It heralded Australia becoming a self-reliant manufacturer. It happened in Fishermens Bend on 29 November 1948 when Prime Minister Ben Chifley revealed Australia's first mass-produced car, the Holden.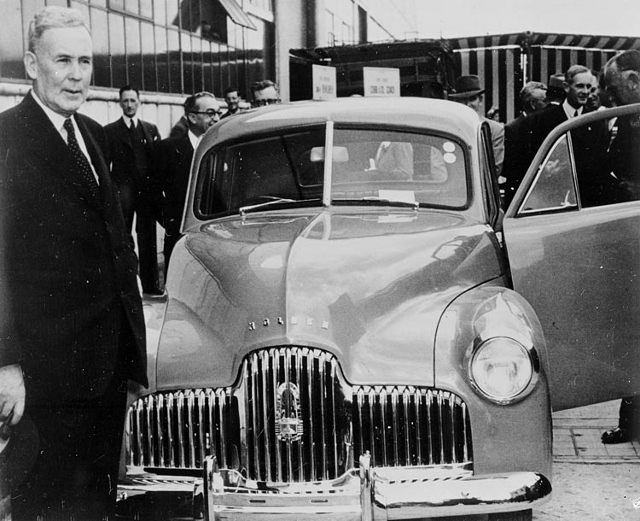 The following day, The Argus reported:
'About 400 guests of General Motors applauded when curtains were drawn back in the company theatrette to reveal the new car, softly spotlighted on a slowly revolving stage while the Brahms waltz in A-flat was played pianissimo'.
The concept for the car had been years in the making. From the 1930s, Australian governments had wanted an Australian-made car.  World War Two sharpened that resolve. As Chifley said at the launch
'during the war years it had been driven home to the Government that Australia should be self-supporting in regard to transport during a time of a national crisis.'
American and Australian engineers built three test Holden sedans at the General Motors experimental workshop in Detroit, Michigan. In 1946, after months of tests, the cars were secretly shipped to the Fishermans Bend plant. Testing continued, and General Motors-Holden's engineers and technicians built another two prototypes, one of which is on display in the National Museum of Australia, Canberra. These became the definitive model for thousands of Holden vehicles.
With a rugged frame and a six-cylinder engine, the four-door car was designed for local conditions – whether on suburban roads or chassis-jarring corrugated country tracks.
The Holden 48-215, also known as the FX, was also economical and stylish, and was immediately popular. It cost 675 pounds plus 10% sales tax – equivalent to two years' wages for the average worker. By the time of its launch, 18,000 people had paid a deposit for the FX.
Some 120,402 vehicles were manufactured between 1948 and 1953. By 1958, the Holden had captured over 40% of total car sales in Australia. By 1962 one million had been sold and, despite strong market competition from the Ford Falcon, another million were sold by 1966.
Over the years, the Holden changed, incorporating the latest technology and engineering, reflecting consumer needs and trends. However, the end of the road is near. With sales falling because of competition and the demand for smaller vehicles, GMH incurring losses, and the Federal Government removing grants, the company decided to cease production by the end of 2017. The design centre in Fishermens Bend will be retained.
Curtin's wish to having locally made vehicles will shortly be dead. Ford closes production next year. Toyota, with significant landholdings in Port Melbourne and the assembly line in Altona will also end Australian manufacturing.
But … the name Holden will live – through badge engineering on imported GM vehicles.
written by Grant Aldous
References:
Australia's first mass-produced car launched. (1948, November 30). The Argus (Melbourne, Vic. : 1848 – 1957), p. 3. Retrieved November 26, 2014, from http://nla.gov.au/nla.news-article22705768
Darwin, N, 1983 The History of Holden Since 1917 Melbourne: Gordon & Gotch
Loffler, D 1998 She's a Beauty!: The Story of the First Holdens Adelaide: Wakefield Press
Oakman, D  Sear, M &  Wehner, K (eds) 2013 Landmarks: A History of Australia in 33 Places  Canberra: National Museum of Australia Press