Commemorating the Liardets
From the Collection
Port Melbourne Centenary Souvenir and commemorative enamelled badges and pins
Liardet's ARRIVAL
On November 15, 1839, the good ship 'William Metcalfe' anchored in Hobson's Bay.  She carried Mr. and Mrs. Wilbraham Frederick Evelyn Liardet and their family of nine after an eventful voyage of five months…
The mother and father were a little over 40 at the time of their arrival, and had intended to settle in Sydney. They were so charmed with the beach frontage that they decided to settle there, although most people were then settling at the Yarra Yarra township. … The family first erected tents, then log huts, and then a substantial and extensive wooden building, that gradually developed into a hotel, and the centre of a seaside resort for the City of Melbourne. For many years the place was known as Liardet's Beach. (Port Melbourne Centenary Souvenir)
 Their arrival and settlement on the beach began the history of Port Melbourne.
The Port Melbourne Centenary Souvenir, Produced in conjunction with the Port Melbourne – Liardet Centenary Committee and the local newspaper The Record, celebrates the enterprise of the Liardet family and their achievements and the 100 years of progress in Port Melbourne from 1839 until 1939.
Written with unashamed enthusiasm and pride, the Souvenir evokes the era in which it was written and would have been funded by the advertisements of the many local businesses. It was probably distributed with The Record as well as at the Centenary functions.
The official Functions, which ran from October 28 until November 20, are listed on the front page and involved the whole community of Port Melbourne in children's events, sporting events, church services, a ball, a parade and a pageant to re-enact the Liardet's landing on the beach.
Commemorative enamelled badges and pins (illustrated below) were also produced for the celebrations in 1939.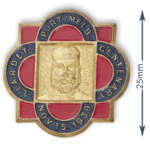 References and more information
Greater Port Melbourne: official souvenir of the 1939 Port Melbourne Centenary Celebrations Committee, South Melbourne: Anderson's Printing and Publishing 1939
Liardet's Water-colours of Early Melbourne introduction and captions by Susan Adams; edited by Weston Bate. 1972. Carlton, Vic. Melbourne University Press on behalf of the Library Council of Victoria