From the Collection
A photograph from the J Kitchen and Sons collection 
In summer of 1854-5, John Kitchen, former grocer and candle-maker from Reading, England, arrived in Melbourne, Victoria, with three young sons and little money, to begin a new life. They were soon able to buy some cheap candle frames, and they commenced making tallow candles in a small rented room in what is now South Melbourne. The business grew. From this small beginning they became within thirty years Australia's chief manufacturers of candles and soap… The company, J. Kitchen and Sons, continued to prosper both in Victoria and interstate, taking over many rivals, and was eventually taken over in its turn by Unilever in 1914, becoming the basis of the firm now trading as Lever and Kitchen. (Kitchen 1993, p 46)
In 1883 Kitchens employed 300 workers and by 1924 the main premise in Port Melbourne covered one hundred and seventeen acres and employed about 1,400 people.
After the site of the Port Melbourne factory, which was then owned by Pental Symex, was sold for redevelopment in 2012 the PMHPS acquired a collection of items from the Kitchen's museum, which includes photographs, documents, packaging, office equipment and candles. Many of these items are currently on display at the Society in the Port Melbourne Town Hall.
Kitchen & Sons took pride in their good relations with their employees as these items from the collection demonstrate.
EMPLOYER/EMPLOYEE RELATIONS IN J. KITCHEN AND SONS PTY LTD.
If evidence is required of the good Employer-Employee relations which exist and have existed for many years at J. Kitchen & Sons Pty. Ltd., then one need only count the number of long service employees………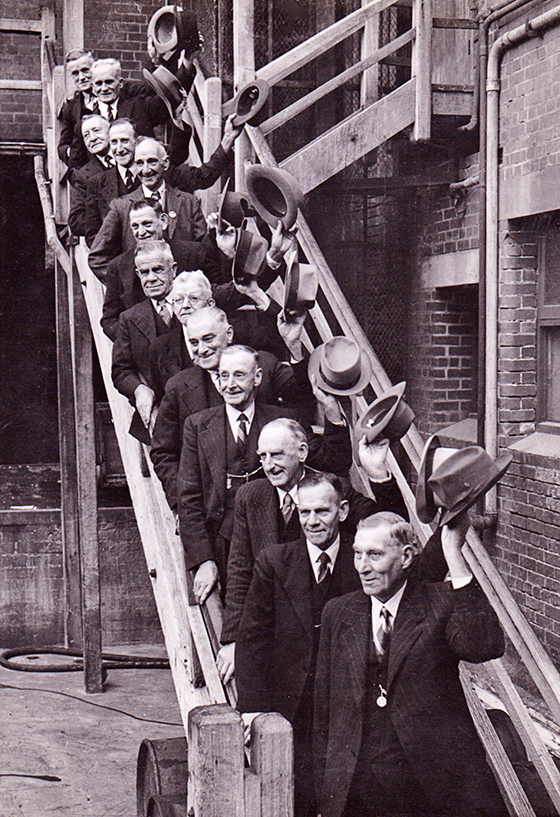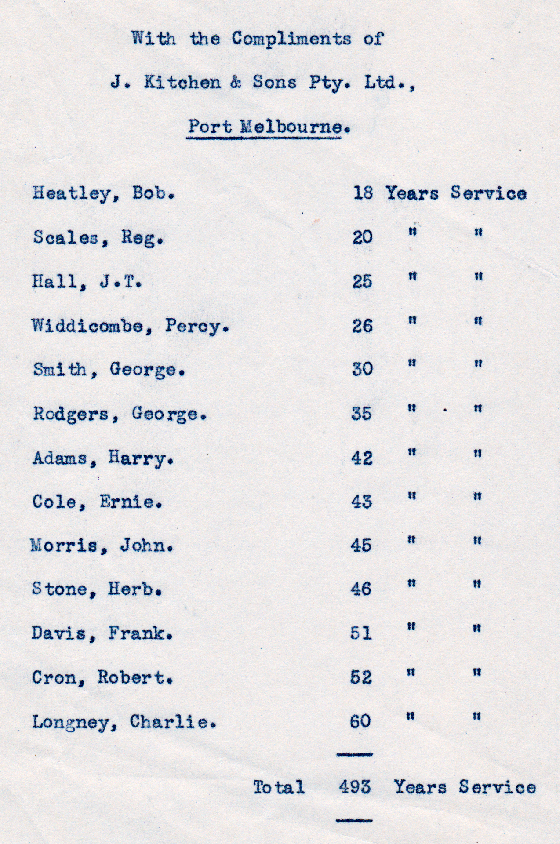 The company not only recognised the loyalty of long standing employees, many of whom spent their most of their working lives with Kitchens, but a series of photographs taken in the 1950's show the staff amenities block which included a canteen, cloak rooms and showers for men and women, accommodation for a nursing sister and visiting medical officer and Personnel workers and the Social Club library.
There is so much more which could be told about Kitchens, makers of Velvet soap, Solvol, Surf, Persil and more, their entrepreneurship and their innovations, their shrewd business and marketing skills which helped make them market leaders in Australia.
References
Australian National University Archives
http://archivescollection.anu.edu.au/index.php/j-kitchen-sons-pty-ltd
Bak, K. 1988 A Lever & Kitchen Album. Lever & Kitchens Pty Ltd.  Balmain. NSW. (Catalogue number 3430)
Grainger, P. J Kitchen and Sons Lives on in the Borough
Kitchen, C.1993 John Kitchen, Chemical Industry Pioneer: A Soap Story Victorian Historical Journal, v. 64, no 1, Apr 1993, p 46-58 (Catalogue number 2188.01)
McKie, R.  1952 The House of Kitchen.  Progress Autumn 1952. (Catalogue number 3382)