Anzac Day in Port Melbourne 2015
A wet Anzac Day in 2015
On Saturday 25 April, people gathered at the World War 1 Memorial Fountain in Port Melbourne to commemorate Anzac Day.
The tradition has been upheld in Port for many, many years though the form it has taken has changed over time. The scene below is at once familiar and unfamiliar to current Port eyes.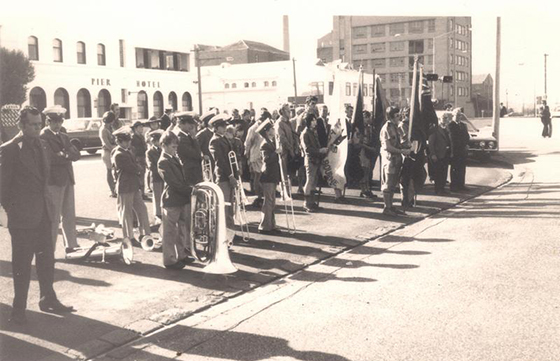 In the 'fifties and 'sixties children from all the schools – Nott Street, Graham Street and St Josephs would walk down to the beach with the small white crosses bearing the names of family members who had served in the war.
Only for two years, between 1997 and 1999, did the service not take place. The RSL had handed in its commission. Former officer in the RAAF Bert Stutchbury handed the baton to community members who have taken care of the commemoration since then.
As Perce White said recently: "we made a pledge, a commitment – 'we will not forget them'. End of story."
The tradition looked vulnerable for a time. Over recent years, the number of people attending has continued to grow.
The service starts from 9.45 am. The time was set so that people could attend the dawn service at the Shrine.
Thank you to Perce White and members of Born and Bred Port Melbourne Facebook for these recollections