'I think that there's a whole lot of symbolism—iconography even—about what a lighthouse means and we use that as a metaphor in all sorts of language: beacon, lighthouse, navigation aid and so forth.' Peter Marquis-Kyle, Heritage Architect
The Port Melbourne Leading Lights were built in 1924, and in conjunction guided ships by marking the centre of the Port Melbourne Channel from Port Phillip Bay.
The citation on the Victorian Heritage Register says:
'The Port Melbourne Leading Lights are of architectural and historic significance as a rare building type in Victoria because of the materials and form adopted which represents a notable application of the Trinity lighthouse design to a navigational installation of this type.
Whilst not distinctive in function, the combination of form and placement of the Port Melbourne Leading Lights, one in the water which of timber construction is unusual when compared to other similar structures.
The easement following the line of sight between the lights is essential to their significance, linking as it does the land based light to the water based light.
The Port Melbourne Leading Lights are historically significant as structures surviving from an important visual and functional link between Princes and Station Piers and along with these piers reflect the pattern of shipping activity during the 1920s and 1930s.'
Lighthouses of Australia provide more technical information:
'The Port Melbourne Front Light is a round and tapered wooden-framed light built on piles. It used to be linked to the shore by a narrow wooden footbridge.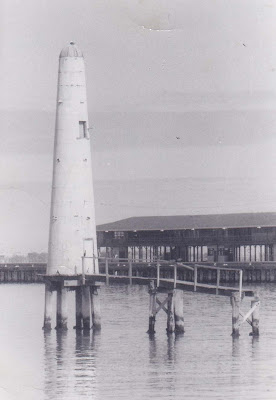 The tower used to show a fixed green light over a 26 degree sector, whilst a second green light occulted every six seconds in the four degree sector marking the centre of the Port Melbourne Channel. The light has not been in use for many years.
The Rear Light is a 26 metre concrete tower, 500 m north of the Front Light.
Its main light is red, occulting every six seconds, and three metres  below it is a 24 hour a day directional light, with green, white and red sectors, each showing over only a fraction of a degree, to mark the precise centre of the channel, in a particularly narrow arc of 1.5 degrees.'
Sources
Leading Lights Beacon Vista and Hobsons Bay Port Phillip City – Victorian Heritage Database
http://vhd.heritagecouncil.vic.gov.au/places/4604#statement-significance viewed 9 July 2015
The Port Melbourne Lighthouses in Lighthouses of Australia
http://www.lighthouses.org.au/lights/VIC/Port%20Melbourne/Port%20Melbourne.htm viewed 9 July 2015
Jones, A Australian lighthouses in the spotlight, Radio National, Off Track 6 July 2015
http://www.abc.net.au/radionational/programs/offtrack/australian-lighthouses-in-the-spotlight-for-anniversary/6593090