Helen Barry writes: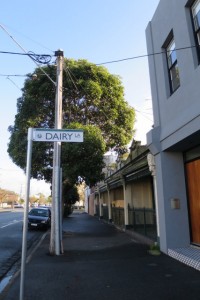 "My father's family dairy was at 68 Ingles Street, Port Melbourne from about 1931 to 1972. The property consisted of a two-storey dwelling with a milk bar in the front where Dad's mother Nellie Barry and sister Bernice sold milk into jugs customers brought with them. The dairy was at the rear of the long lane that separates nos. 68 and 70 Ingles Street. The horses and drays used to deliver milk were kept at the end of the lane to the left. To the right behind the dwelling was the dairy.
Three generations of my family were listed as dairymen, all in Port Melbourne.
The first was my great grandfather, Robert Clark Barry, who was born at sea in 1849 as his father was a ship's master. At the age of 26 he was married in Sandridge, listed as a dairyman in 1888-1901. The second was my grandfather Henry Richard Clark Barry and the third was my father, Norman Henry Merlin Clark Barry. They lived at various addresses in Port Melbourne, 52 Bridge Street, 109 Dow Street, Stokes Street and Esplanade East.
Travencore Dairies collected milk from farms and delivered it up the lane at Ingles Street in a semi-trailer. From 1951 onwards the Milk Board purchased milk from farmers for resale to dairies for distribution. On delivery, the cans were lowered onto a ramp and my father had a turntable on which the cans landed. On the premises was a refrigerated chamber for the milk, a separate area for a bottle washing machine with the water coming from a boiler fired by coke, and a bottle-filling machine. Labelled cardboard wads were put in by hand and pushed home with a wooden implement.
Dad loved his local Port Melbourne milk round. It was said that he knew every customer by name, especially all the ladies. He also had a contract to deliver milk to the ships. He wore Yakka overalls and would put the can on his back, stand at the bottom of the gangplank and get ready to run the full length of the gangway in one spurt. He often brought home lonely engineers from the ships and Mum fed them all.
He also delivered milk over the Yarra. It was exciting going on the punt with him.
In the early 1970s the pint bottle was replaced with the 600ml bottle and most suburban milkmen stopped home deliveries. At this time, a number of local dairies in Port amalgamated. They were the Spain, Stuart, Barry and Woodruff families, although Mr Butcher chose not to join. Mandatory pasteurization of milk may have been the reason for the amalgamation. A new dairy with a large modern bottling plant was built at 22 Derham Street, which was called Superior Dairies. 68 Ingles Street was sold.
By the late 1980s only 2% of milk was still sold in bottles. The dairy at Derham Street has now gone and has been replaced with homes called Woodruff Terrace."