The Lemnos Gallipoli Memorial
The relationship between Australia and Greece has deep roots in the island of Lemnos.
A hundred years ago, a piper welcomed the first Anzac nurses ashore onto that island.
Conditions were harsh and chaotic at first –  'too awful for words'. Over time conditions improved and survival rates were impressive.
The dedication of the 130 nurses who served on Lemnos, the men they cared for and the people of Lemnos who hosted them were acknowledged in a solemn ceremony at Foote St Reserve on Saturday 8 August.
The moving commemoration to dedicate the Lemnos Gallipoli Memorial was witnessed by dignitaries, community members and descendants of the nurses.
The rain and bitter cold held off and the sun shone briefly.
The dedicated organising committee, chaired by Lee Tarlamis, wove the threads of the Greek/Australian relationship together through every facet of this project.
The care the Anzac nurses gave inspired the speakers. Mayor Amanda Stevens, City of Port Phillip, promised that the Council would care for the memorial in this place. The Hon Gavin Jennings who represented the Premier said that 'there can never be enough stories of love, care, compassion and tenderness'.
Secretary of the Committee, Jim Claven has so immersed himself in the diaries and letters of nurses and soldiers that the island became briefly tangible through their words.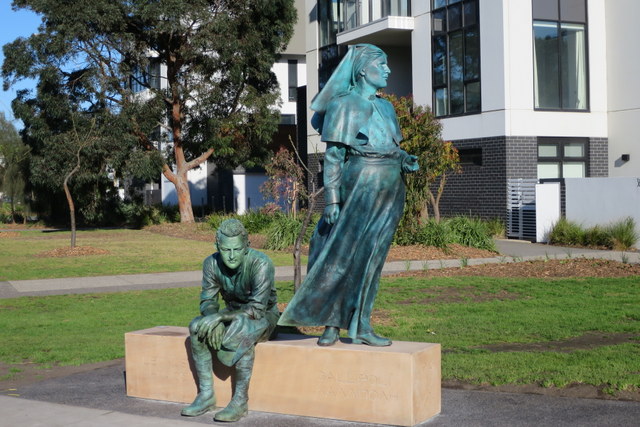 Sculptor Peter Corlett has fused the influences of classical Greek sculpture with the stories of the Anzac nurses on Lemnos to create the sculpture. The nurse looks north east towards Gallipoli buffeted by the winds that blow on Lemnos and by the monstrous challenges the nurses  faced. In her lee is the weary soldier.
Over time the sculpture will weather but will not age. It is on our daily path as a pointer to the service of those nurses in the War and a reminder of deep connection to places.
Read more
Lemnos Gallipoli Commemorative Committee Inc. The Lemnos-Gallipoli Story – the key facts 
Lemnos Gallipoli Commemorative Committee Inc. Nurses on Lemnos