First Flush at the All England Eleven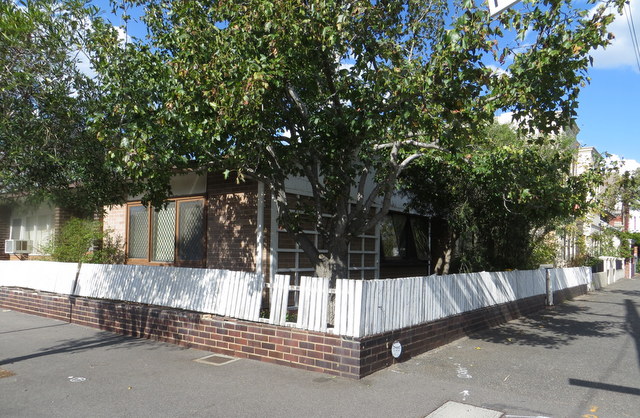 This unprepossessing corner was once the site of the All England Eleven Hotel. The hotel was demolished in 1953 according to this account in The Herald of this week's date:
"If you stand in Princes St, and look in through the windows of the derelict All England Eleven Hotel, you can see the sky. The hotel has lost its roof and is fast losing everything else, too, as demolition works go on. Eventually, it will disappear and a block of flats go up in its place.
But memories will linger …
One of the port's 'old-timers' as Mr G Porritt, who lives a few doors away, remembers when the All England Eleven was the busiests spot in town.
The last licensee, Mrs M Cass – she is now the licensee of the Queens Bridge Hotel, South Melbourne, said it was delicensed before the First World War. Later it became a guest house. For many years  its present owners Swallow and Ariell Ltd have used it as a store. Mystery surrounds its name. But the first official English Test team visited Australia in 1876 a year before it was built. Another hotel, in Bay St, was called the All England Eleven." (Herald 23 May 1953)
This corner is more significant for being the first place in Melbourne to be connected to the sewerage system in 1897.
"FIRST FLUSH 1897: The sewerage connections at the All England Eleven Hotel have been passed by the Metropolitan Board of Works' officers, and the drains are now in full working order. We understand that this is the first completed connection in the Port. Mr. W. Robertson, of 431 Law Courts-place, was the plumber who carried out the work".
The plaque in the footpath on Princes St marks this very important milestone in public health. The anniversary of this event is marked on 17 August each year.
cnr Rouse and Princes Streets, Port Melbourne
Postscript: when a planning permit was issued for the redevelopment of the property in 2015, a condition on the permit required the reinstatement of the plaque in the footpath. The City of Port Phillip took care of the plaque during the protracted development. The plaque was reinstated into the Princes St footpath in November 2019.
Source 
Standard 21 August 1897, p2
You may also like this post on how the All England Eleven got its name.
For the planning history of the site, refer to Port Houses, 286 Rouse St, Port Melbourne