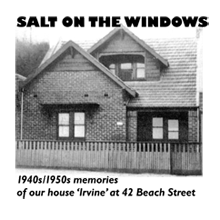 Author Janice Christine MacDonald neé Morton died on Tuesday, 19 May 2015. A victim of Alzheimer's Disease, she had lost all those memories fortunately recorded in her books on Port Melbourne. An active PMH&PS member in our foundation decades, Jan authored Thomas Edwards & Family – Farriers and Yachtsmen of Sandridge/Port Melbourne, and Monkey for a Yacht, the story of her grandfather, noted yachtsman Dick Edwards.
For some time in the 1940s and 50s, the family lived in 'Irvine' at 42 Beach Street next to the Pier Hotel. Jan wrote these evocative small pieces remembering that time.
Download Salt on the Windows by Jan MacDonald.