January 2017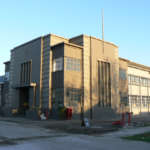 At its final meeting for 2016, the Port Phillip Council considered the recommendations of a Panel on Planning Amendment C117 (Fishermans Bend Heritage Controls) that covered this large site. The Panel recommended,  and Council agreed, that
"The heritage listing of the Rootes/Chrylser factory complex should be refined to buildings of primary and secondary significance in the block bounded by Salmon Street, Plummer Street, Smith Street and Williamstown Road, Port Melbourne." (as shown in photo left)
Their rationale was that
"While the administrative building presents the 'image' of the company, the understanding of the site is made complete if the original manufacturing components associated with the key development periods is recognised" (25/49)
Sites west of Smith St are to be removed from any further consideration for a Heritage Overlay since they have little ongoing association with the Rootes complex.
Since the owners did not receive notice of the planning scheme amendment because of a notification error, the matter will be heard again as Planning Amendment C143.
Read the Panel's report Port Phillip Planning Scheme Amendment C117 Fishermans Bend Heritage Study
Refer to the City of Port Phillip, minutes of the meeting of 13 December 2016
September 2015
The Port Phillip Council at the meeting of 22 September voted to strengthen heritage protection for places in Fishermans Bend and Montague.
Among the sites sought to be protected is the Rootes/Chrysler factory site at 19 Salmon St.
The decision included a request to the Minister for Planning, Richard Wynne, to introduce interim heritage controls whilst the permanent controls are introduced.
The planning process will include a full public exhibition process which will allow interested parties to make submissions.
The Council had commissioned Biosis, author of the original heritage studies, to undertake further research to support the controls.
More
Biosis Fishermans Bend additional heritage place assessments. Prepared for the City of Port Phillip June 2015 (Updated September 2015)
All the reports supporting the Council decision are available on the City of Port Phillip Council meetings webpage for September 2015.
Felicity Watson from the National Trust has written this helpful summary of the decision.