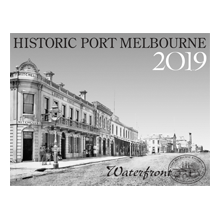 2019 Historic Port Melbourne Calendar
Waterfront
As long as the shores of Port Melbourne have existed – not so long in the overall scheme of human occupation – our waterfront has been rich with historic incident (and reliant on strong timbers).   Much is recorded, much is not, but we treasure the images that help us to imagine the times that came before.
Our historic calendar for 2019 features many of our waterfront locations to help you imagine and remember Port as it was
Prices are in Australian Dollars. No GST is chargeable.