Welcoming the Returned Soldiers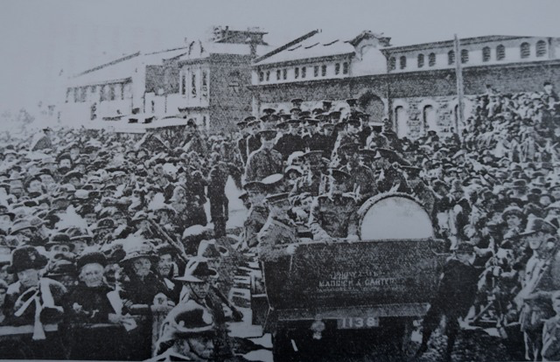 Some three thousand people gathered along the roads leading from the New Railway Pier (Princes Pier) on the morning of Saturday 23 November 1918 to welcome the first contingent of returned soldiers.1
Barriers along the route restricted the roadway to 12 feet to allow the cars carrying the soldiers to proceed to the city.
At the foot of the pier, two strong posts had been established. The Women's Welcome Home Choir comprised of 12 violinists and a pianist arranged on a lorry occupied one while the members of the Port Melbourne Women's Welcome Home Committee occupied the other.
The convoy of soldiers in cars, provided by the Automobile Club, moved off from the pier shortly after 11.00am and were greeted by the "Song of Welcome" composed by Mrs A V Heath. The Women's Welcome Home Committee handed out packets of cigarettes, boxes of chocolates, flowers and fruit to the men.
A military band led the procession through the throng of people, cheering and waving flags as each vehicle passed.
"Ladies who were relative or very intimate friends of some of the soldiers naturally greeted their own particular heroes – sons, husbands, brothers or sweethearts – very affectionately.2
A group of young ladies from Foy and Gibson's wearing white frocks and tricolour hats, coo-ed the men as they approached, and cheered them as they passed.
At Graham Street the pupils from the nearby school met the men with rousing hurrahs. Ringing cheers following the convoy along Ross and Bridge Streets to Bay Street.
The pupils from Nott Street formed a guard of honour and the Town Hall was decorated with flags with "Welcome to Anzacs" on the façade. The Port Melbourne Citizens' Band occupied one balcony while leading residents were assembled on the other. The Mayor, Cr R H Gill had asked residents to augment to strong post set up in front of the Town Hall by the League of Soldiers' Friends. Never before during the war had there been so vast a cheering multitude at this point.
At the rockery in front of the Fountain Inn, the pupils of Bainbridge College were gathered. The boys wore red coats of soldiers while the girls were dressed as nurses.
The South and Port Lady Piper's were positioned at the first strong post in the city at the corner of Market and Flinders Streets. As the procession crossed Queen's Bridge, they were greeted with a solo of "Home Sweet Home" by Mrs Jessie Young.3
The scenes seen in Port were replicated through the city4 as the soldiers continued along Collins Street and Spring Street to the Exhibition Buildings.5
References:
1 1918 'ANZACS ARRIVE', Port Melbourne Standard (Vic. : 1914 – 1920), 30 November, p. 3. , viewed 23 Nov 2018, http://nla.gov.au/nla.news-article88368477
2 Ibid
3 1918 'LADY PIPERS' WELCOME.', Port Melbourne Standard (Vic. : 1914 – 1920), 30 November, p. 3. , viewed 23 Nov 2018, http://nla.gov.au/nla.news-article88368476
4 1918 'ANZACS ARRIVE HOME', The Age (Melbourne, Vic. : 1854 – 1954), 25 November, p. 7. , viewed 23 Nov 2018, http://nla.gov.au/nla.news-article155236515
5 1918 'IN THE CITY STREETS.', The Age (Melbourne, Vic. : 1854 – 1954), 25 November, p. 7. , viewed 23 Nov 2018, http://nla.gov.au/nla.news-article155236506