From Melbourne Ports to Macnamara
As the 2019 federal election looms, Margaret Bride gives an overview of the history of the electorate
Melbourne Ports was one of the original eight metropolitan electoral districts contested in the first federal election in 1901. At that time, the electorate of Melbourne Ports included both the port suburb of Williamstown and that of Port Melbourne. Numerous changes of electorate boundaries have altered it almost beyond recognition, especially the plural ports as Williamstown is no longer within its boundaries. Even in the 2019 election, the boundaries of Macnamara are not identical with the Melbourne Ports of 2016, since it includes part of Windsor for the first time. The renaming is part of a shift in policy to name more electorates after women.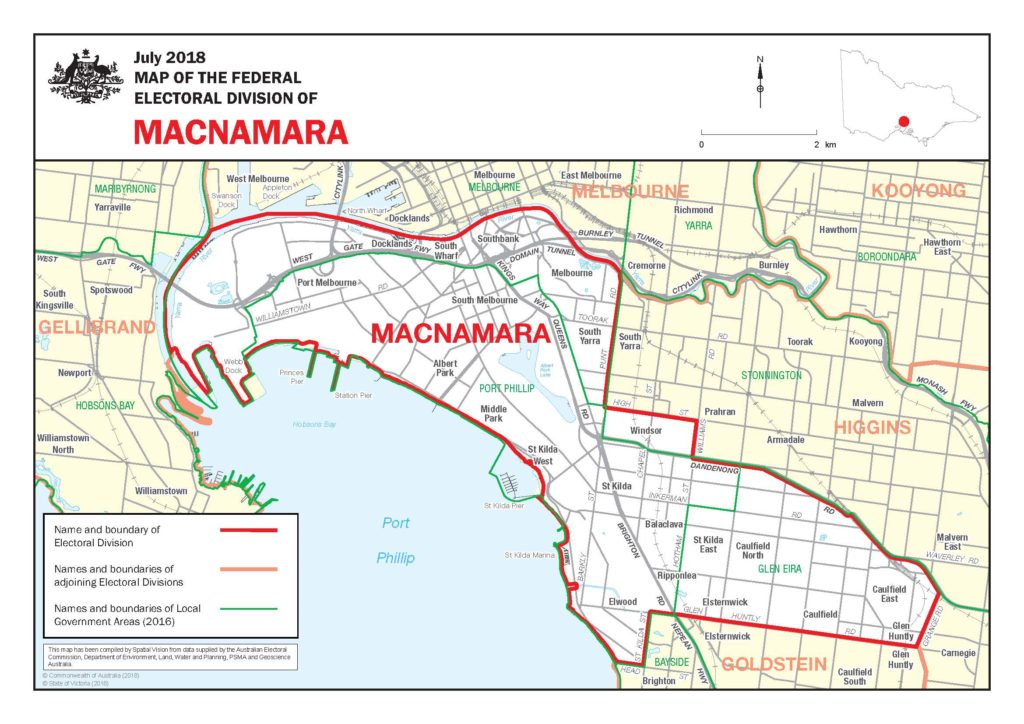 Jean Macnamara
Shortly after she graduated in medicine, Jean Macnamara worked with Macfarlane Burnet researching viruses and identified that there were a number of separate virus that caused polio, not one as had previously been thought. Dame Jean Macnamara is acknowledged for her pioneering work in the treatment of paralysis in children who had been infected with the polio virus. She was also well known for her early advocacy of the use of myxomatosis to control the rabbit population.
Samuel Mauger
The first member elected for Melbourne Ports after federation in 1901 was Samuel Mauger, a leading advocate of social reform in Melbourne from 1880 onward. He was one of a number of members of the Victorian parliament who resigned to contest seats in the new Australian parliament. At that time he was owner of a hat shop in the city but he had begun his working life in Melbourne as a hatter. He had been the Hatters' Union representative to the Trades Hall and one time chairman of the Trades Hall Council.
His public speaking and debating skills were developed through his advocacy of temperance, fair wages, improved working conditions for women in the clothing and footwear industry and for firemen. His Christian faith was at the core of his social advocacy that led him to a close association with Dr Charles Strong of the Australian Church – indeed he was on its governing body for over 50 years.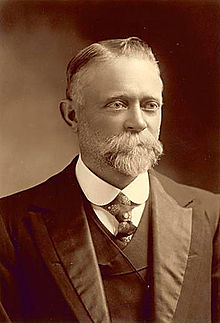 He began a life long association with the fireman's union and the metropolitan fire brigades in 1883 and served on the Metropolitan Fire Brigade Board from 1891 to 1936. Throughout this time he was a strong voice for improved working conditions and the rights of firemen to proper protection and safety.
He was one of the founders of the Anti-sweating League, an organisation that aimed to abolish this exploitative practice. He personally visited many of the women in their homes where they were forced to work long hours as seamstresses at very low piece rates. It was he who convinced David Syme, editor of The Age, to publish a series of articles exposing this evil. It was this publicity campaign that led to improved legislation to control the practice of outsourcing in the clothing and footwear trades.
As a Victorian liberal reformer in the first Australian parliament he was a member of Alfred Deakin's ministry and became Postmaster General. Like Deakin, he firmly believed that protection of Australian manufacturing industry from foreign competition was essential for the welfare of the workers. For a time he also advocated for uniform labour laws across all the states. However he could not reconcile his beliefs with taking the members' pledge of the Labor Party and in 1906 election he was defeated in Melbourne Ports by the endorsed labor candidate, James Matthews.
Edward James "Jack" Holloway
The third member for Melbourne Ports was Edward James Holloway, known to his contemporaries as "Jack". After short periods working as a shoemaker, gold prospector, tobacconist and stockbroker's clerk, he took up his boot making trade in Melbourne about 1905. Soon after he became the representative of the Australian Boot Trade Employees Federation on the Trades Hall Council and a member of the Political Labor Council of Victoria. The violence between unionists, police and strike breakers that he witnessed in the Broken Hill miners strike of 1892 led him to a very strong belief in negotiation as the best method of settling industrial disputes. From 1911 he became the chief negotiator for the Victorian Trades Hall Council. During the conscription campaigns in 1916 and 1917 he was a leader of the Anti-conscription movement and became secretary of Labor's national Anti-conscription committee.
Jack stood for the Senate in 1925. He was not successful but in 1928 he stood as labor candidate in the federal seat of Flinders and sensationally defeated the deeply unpopular Prime Minister Viscount Bruce. In 1931 he became an assistant minister in Scullin's government. Always a man of strong principles, he resigned as a protest against the Premier's Plan in the depth of the depression, saying he would never agree to any legislation that adversely affected wage earners. He did not stand again for Flinders but in 1931 that he agreed to be the candidate for Melbourne Ports. He was elected and served this electorate for the next 20 years.
In 1941 he became Minister for Health and Social Security in the Curtin government. He then became minister for labour and national service from 1943 to 1949 where one of his most important achievements was the 40 hour week and minimum two weeks annual leave for full time employees. He also brought forward Legislation that gave the Commonwealth Court of Conciliation and Arbitration power to fix a minimum wage for female workers.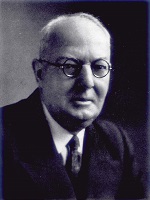 The Dictionary of National Biography entry for Jack Holloway concludes: Holloway's success was due not only to hard work, but to honesty and sincerity which earned him respect within and with out the labour movement. After he left parliament he lived in St Kilda and died there in 1967.
Margaret Bride, May 2019
References and further resources
Australian Dictionary of Biography Samuel Mauger, John Lack
Australian Dictionary of Biography Edward James "Jack" Holloway D.P. Blaazer
The Reverend Charles Strong, C.R. Badger, Abacada Press, Melbourne 1971
National Portrait Gallery Dame Jean Macnamara c1930, Donovan
David Syme: a Life, C.E.Sayers, Cheshires, Melbourne 1965