Crichton (Jubilee) Reserve
by David Radcliffe
Crichton Reserve, as it is now known, is named in honour of J P Crichton who served on Port Melbourne Council for 51 years from 1905 and was Mayor five times; in 1909, 1917, 1925, 1930 and 1939. This narrow, trapezoidal slice of land was formed by the convergence of Princes Street and Stokes Street, with Liardet Street creating its southern boundary.

The 1853 map of Sandridge indicates that what became Crichton Reserve was once planned to be Section 17, comprising five building blocks of land.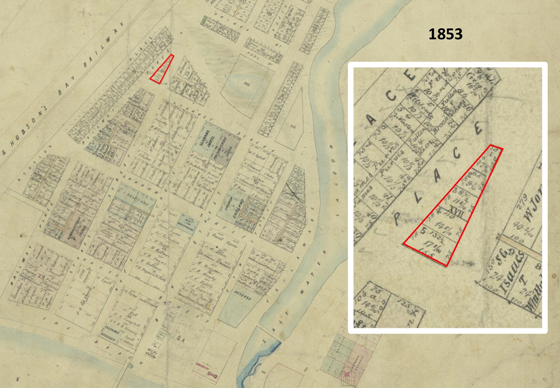 However, the 1860 Township of Sandridge map shows this slither of land was no longer identified as saleable land for subdivision and that the adjacent area of swamp had been designated as an ornamental reserve. Of course we know this adjacent area became the location of the Nott Street State School. The main school building appears on the 1895 MMBW map where the swamp once was and the slither of land is now labelled as a reserve. 
In July 1910, it was proposed to establish a children's playground on this vacant land as a permanent memorial of the Jubilee Celebrations. It was to be named Crichton Reserve as a "well-deserved compliment to the Mayor." Countering considerable apathy, Cr. Crichton had enthusiastically championed the holding of celebrations to mark the 50th anniversary of Port Melbourne (then Sandridge) becoming self-governing in 1860. Thirty years later, in his final term as mayor, he played a similar role of encouraging community support for, and active engagement in, the Liardet Centenary celebrations. Having the community remember significant milestones in its history was clearly important for him.
The Crichton Jubilee Playgrounds, as it became known, was completed in September 1911 consisting of "four good strong swings, two see-saws, and a sand pit". However, it was an immediate source of controversy. While intended for children, 'hoodlums' took over the place in the evenings, much to the chagrin of the neighbours and the Council. Locks were installed to prevent out of hours usage, but the locks were forced. Locals signed a petition and only a month after installation the playground equipment was closed down, not least due to so many children being injured. It is also reported that Cr. Crichton objected to "there being swings and see-saws in a park name after him."[1]
In 1912, the play equipment was re-erected at the Nott and Graham Street State Schools and St Joseph's School. Subsequently, the park was referred to simply as Crichton Jubilee Reserve. An outdoor temperance meeting was held at the reserve one evening in October 1914. Through the war years there were complaints about the unsightly state of the reserve and improvements were attempted. 
Over the next few decades many uses were proposed for the Crichton Jubilee Reserve. A request to use it as a car park during the visit of the US Fleet in 1925 was declined by the Council. In 1926, the Council proposed to use it as the site for a Baby Health Centre. The idea of building a tennis court on the reserve was considered in 1929 but due to the cost this did not proceed. Approaches in 1929 and again in 1940 to have the reserve become a playground as part of the Nott Street school were regretfully refused, in part due to the prevailing bye-laws. A suggestion in 1938 to use it for girls basketball also fell afoul of the regulations. 
By the early 1950s, new playground equipment had been installed on the reserve, although at least one resident complained that its location should have been at the wider end of the reserve rather than the narrow one. A couple of years later, the "deplorable behaviour and filthy and vile habits" of teenage hooligans who gathered at Crichton Reserve in the evenings caused considerable consternation. Seems not a lot had changed in forty years.
In the subsequent seventy years, the reserve has seen numerous changes in the playground equipment installed, with the most recent redevelopment being completed in 2018. Echoing the early history of the reserve, in April 2020, the playground equipment in Crichton Reserve was once again 'locked down' to prevent children from using it, this time in response to the global pandemic.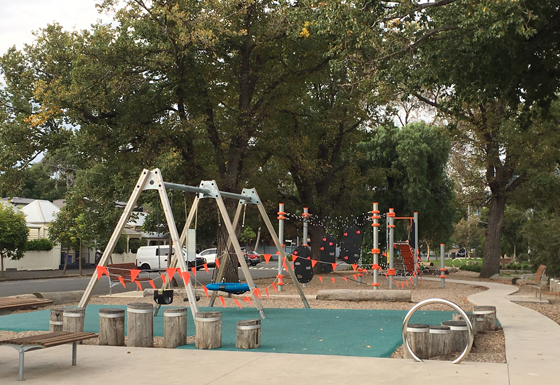 James Peter Crichton was a plumber by trade who operated a successful business out of various premises on Bay Street from 1894 until 1920. He then changed careers becoming an auctioneer and real estate agent. J.P. Crichton had an eclectic range of intellectual pursuits and sporting passions and was engaged in a wide variety of community activities. In his younger days he even exhibited paintings. Cr. Crichton and his wife Elizabeth Portbury were honoured for their long service to Port Melbourne via a commemorative plaque that can be seen on the wall of the main entrance to the Port Melbourne Town Hall. 
A less prominent reminder of J P Crichton can been seen further down Bay Street. If you have a very keen eye, you can just make out the 'ghost sign' on the semi-circular facade of his former agency at 273 Bay Street; it reads "J P Crichton & Sons, Auctioneers".
What are your memories of playing in Crichton Reserve in the 1950's or 1960s or later?
---
[1] Margaret and Graham Bride, The Borough and its People: Port Melbourne 1839-1939, Port Melbourne Historical and Preservation Society, 2013, pp. 228-229.