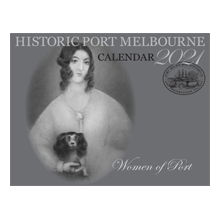 2021 Historic Port Melbourne Calendar
Women of Port
Forty local women are depicted (others mentioned) in our tribute to Port Melbourne women and those featured are not necessarily those that you would expect.
In this packed calendar you'll find a musical talent who joined the Melbourne Symphony Orchestra, the matriarch of a famous Port footballing family who was a fine cricketer in her own right, a 'mayor' of Port Phillip whose scooter was a familiar sight around the streets of the Borough, a politically charged young woman who took a leading role in many of the social movements affecting Port and Australia as a whole during the Great War and many, many more.
This is our best calendar ever!
The 2021 Historic Port Melbourne Calendar is available from Elegant Slax at 275 Bay St, Port Melbourne Paint & Wallpaper at 395 Bay St, the Port Melbourne Newsagency at 192 Bay St or you can order it online below.
Prices are in Australian Dollars. No GST is chargeable.