Changing Fortunes: Ebb and Flow of People and Place in a Pocket in Port Melbourne
by David F Radcliffe
PenFolk Publishing , Blackburn, 2021, soft cover, colour illustrated, 266 pp. $39.95.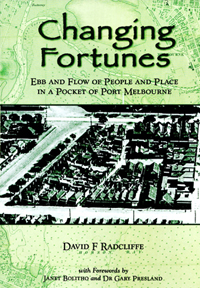 With forewords by Janet Bolitho and Dr Gary Presland, this book explores the life and times of a diverse range of people who lived around the upper reaches of the former Sandridge Lagoon from pre-settlement times up until the early 1950s. Set against the many environmental, social, and economic changes that shaped their lives, it reveals the joys and sorrows, struggles and successes of working families. It sheds light upon our long standing obsession with real estate and the limited opportunities available to women to achieve financial independence. The book also looks to the future and a time when we can be fully reconciled with our past.
The index includes the names of over 300 individuals associated with the stories in the book.
Prices are in Australian Dollars. No GST is chargeable.