Now and Then 2021 – Albert and Alfred Streets
The rows of modest, cheek by jowl, Victorian cottages, in many streets in Port Melbourne, provide a glimpse of what it would have been like to live here in the mid-to-late 1880s. What was then is now intermingled with 21st century vehicles and a growing city skyline.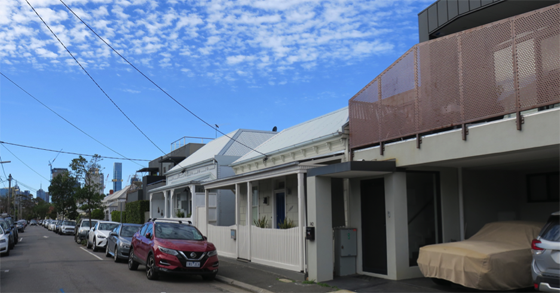 This intermingling of then and now is especially evident in the tightly packed streetscapes of Albert and Alfred Streets. These two narrow adjacent, one-way streets contain an eclectic mix of houses that reflect many eras and architectural styles; single fronted and double fronted Victorian; Edwardian; post-war brick plus ultra-modern town houses.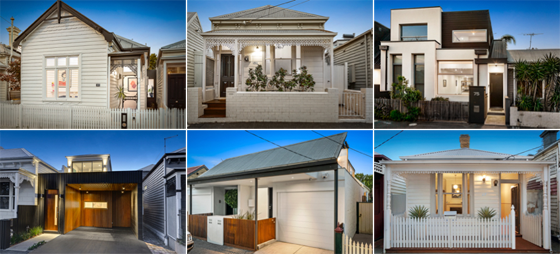 Albert Street is named for Prince Albert, Queen Victoria's Consort and Alfred Street after the Queen's son. In 1867, as the Duke of Edinburgh, Alfred visited Australia and for the Melbourne leg of this trip came ashore at Railway Pier where welcoming celebrations ensued.
The longer of the two, Albert Street, runs from Farrell Street, across Graham Street and terminates at Poolman Street. In the late 1860s, the Crown Land either side of Albert Street between Clark and Ross Streets was auctioned off as one acre allotments. Between the late 1870s and the 1890s these large allotments were sub-divided into quite small building blocks with internal roadways – Alfred, Peckville, Thomas, Clay and Union Streets – being created to provide access to the houses. Another narrow, dead-end roadway, Cambridge Street, runs parallel to Albert Street. While initially it came off Farrell Street, it is now a T-shaped street that can only be accessed via Alfred Street.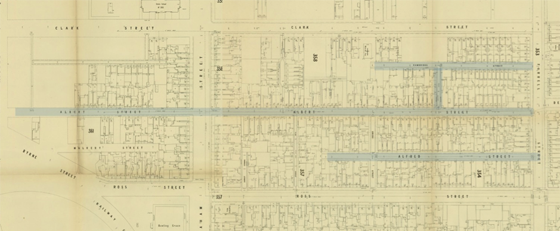 These narrow streets and the density of housing fostered a strong sense of community, of neighbourliness and belonging. In the days before the overpass was constructed, local shops along Graham Street including those near the corner with Albert Street supplied many of the daily necessities and a place to catch up with others. Like many parts of Port Melbourne this close knit neighbourhood is progressively being gentrified. Hopefully the unique character of this place will not be lost in the process.
This article is based on one of the panels that formed the Now and Then Exhibition of the Port Melbourne Historical & Preservation Society in 2021. The original panel can be seen here.
HMAS Apartments and Lagoon Pier | Now and Then 2021 | 108 Bay Street: Bianca Apartments