Cardie Visits a Port Pawnbroker
Elephant Escapes

Damage at Port Melbourne

Aroused by a neighbour, who was on his way to work at an early hour yesterday morning, Mr M Rabinov, a pawnbroker of Bay Street, Port Melbourne, found that his back garden had been completely wrecked. There was a large gap in a wooden fence which separates the garden from a vacant allotment and there was not one tree left standing in the garden. A large pepper tree, aged 40 years, was uprooted, fig, apricot and peach trees were strewn about the lawn, a trellis was torn down, and on every hand were signs of devastation.

Surveying the ruin and swinging his trunk to and fro was a huge elephant, which refused to move. Later the elephant's trainer arrived, and explained that the animal was Cardi, an Indian male, the largest in Wirth's Circus at the Olympia. With three other elephants Cardi broke his chains early yesterday morning. Three of the elephants did not leave Wirth's Park. Search parties had been looking for Cardi for some time. The elephant left quietly with his trainer

The Argus, 16 November 1921, p10
The following month, The Argus reported that it was elephant love troubles that had led to Cardie's Port Melbourne escapade.
Princess, one of the female elephants, who was born 111 years ago, according to Mr Phillip Wirth, bestowed her affection on Cardie, who, as he celebrated his 30th birthday recently, is really about 80 years her junior. The great discrepancy in their ages might in any case prevent him from responding, but there is a still more serious obstacle in the way, for he long ago gave his heart to Alice, who is about his own age.

… though she was hopelessly in love with Cardie, she [Princess] has now taken a violent dislike to him. More than once she has torn loose from her stake and has "gone for him". In these attacks she has always been aided and abetted by Mollie, and between the two of them the unfortunate youth … has suffered some severe buttings and tuskings. It was to save his skin that he had retreated to Port Melbourne …

The Argus, 3 December 1921, p9
Cardie was not averse to violent intentions himself. That same issue of The Argus describes him as "not a very amiable elephant". He had recently flipped an attendant about 40ft and had "laid up more than one man in the last year or so". It seems that his trainer, Victor Lee, was the only one who could manage him and it was an attack on a Mr Cooke while Wirth's Circus were on tour in Queensland in 1923 that, sadly, led to Cardie's demise.
Fortunately it appears that no one was injured when Cardie visited Port.
The owner of the wrecked garden, Moses Rabinov, was a long established pawnbroker at the Crown Loan Office, 77-79 Crockford Street and his son Harry, was also a pawnbroker with premises in Montague Street.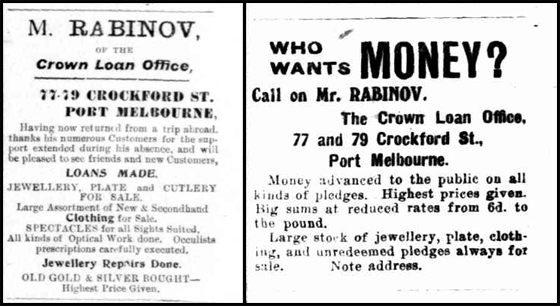 ---
Sources
1921 'ELEPHANT ESCAPES.', The Argus (Melbourne, Vic. : 1848 – 1957), 16 November, p. 10. , viewed 23 Aug 2021, http://nla.gov.au/nla.news-article4619985
1921 'CIRCUS ELEPHANTS AND LIONS.', The Argus (Melbourne, Vic. : 1848 – 1957), 3 December, p. 9. , viewed 23 Aug 2021, http://nla.gov.au/nla.news-article4616149
1923 'Shooting an Elephant', The Week (Brisbane, Qld. : 1876 – 1934), 6 July, p. 10. , viewed 23 Aug 2021, http://nla.gov.au/nla.news-article181603149
1911 'Advertising', Record (Emerald Hill, Vic. : 1881 – 1954), 27 May, p. 1. , viewed 23 Aug 2021, http://nla.gov.au/nla.news-article162602673
1919 'Advertising', Port Melbourne Standard (Vic. : 1914 – 1920), 5 April, p. 4. , viewed 23 Aug 2021, http://nla.gov.au/nla.news-article165261866
1914 'NUPTIAL KNOT.', Record (Emerald Hill, Vic. : 1881 – 1954), 21 November, p. 3. , viewed 23 Aug 2021, http://nla.gov.au/nla.news-article74231723
1921 'HOUSEHOLD THINGS STOLEN.', Record (Emerald Hill, Vic. : 1881 – 1954), 1 October, p. 2. , viewed 23 Aug 2021, http://nla.gov.au/nla.news-article162538827
1915 'ITEMS OF NEWS.', Port Melbourne Standard (Vic. : 1914 – 1920), 24 April, p. 2. , viewed 23 Aug 2021, http://nla.gov.au/nla.news-article91168368