Dulcie Smith – Queen of the Sunday School
by David Thompson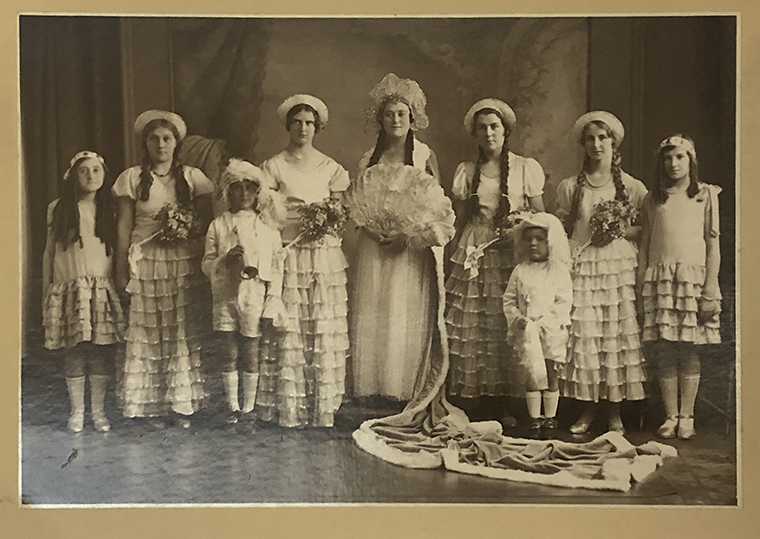 For many years this photograph remained an uncatalogued item in the Society's archives but thanks to a plea for information on Facebook in May 2022 we now know that it is Dulcie Smith, Queen of the Sunday School and her court during the 1931 Holy Trinity Church Carnival.
Ninety-five year-old Bill Rachinger identified himself as the young boy on the right in the photo and through his daughter, Di, posted that the other boy is his cousin, Albert Smith. The girl on the extreme left is Albert's sister, Valda and the central figure is their sister Dulcie. Further, he was able to name the girl on the extreme right as Edith Durstan and the girl second from left as Keitha 'Treasure' Allison. Bill also remembered that it was taken during some sort of competition at the Town Hall.
A post-it note of the back of the photograph indicated that long-time PMHPS Secretary, Pat Grainger, thought it could be a 'Queen', part of a competition often employed prior to WWII to raise funds for a specific purpose. When this was suggested to Di Rachinger she responded 'Yes! Dad mentioned something about a Queen event'.
Further research on Trove revealed that the Holy Trinity Church held a carnival with a King and Queen competition in 1931 to raise funds for the parish. A pennant flown daily from the church tower indicated which monarch was leading in public favour with a report in The Record, 14 Nov 1931 showing that the purple pennant of Mrs W Couch, Queen of the Choir was flying ahead of Miss Irene 'Rene' Tate, Queen of the Girls' Friendly Society (green), Mrs F Harjes, Queen of the Ladies' Guild (white), Miss Dulcie Smith, Queen of the Sunday School (orange) and Mr M McLellan (or perhaps Mr J McLennan), King of Tennis (blue).
The carnival concluded with a Coronation by the mayor, Cr Thomas Griffin, at Port Melbourne Town Hall on Thursday, 26 Nov 1931.
The report of the coronation in The Record, 28 Nov 1931 reveals that Mrs W Couch was crowned Queen of the Carnival having garnered 19,902 votes and raising £82 18 6 narrowly defeating Miss Rene Tate (19,356, £80 13 11). Miss Dulcie Smith finished third (9,484, £39 10 4) ahead of Mrs F Harjes (6,685, £27 17 1) and Mr McLelland/McLennan (3,326, £13 17 2).
Dulcie was born on 8 Jan 1917 and was christened at Holy Trinity Church on 3 Feb 1917 so finishing third in the church carnival Monarch Competition a couple of months short of her 15th birthday was a very good effort.
Further browsing of The Record on Trove revealed that nine years later on 8 Jun 1940, Dulcie married Dudley Allport at Holy Trinity. As it turns out Dudley was the twin brother was Gordon Allport who was PMHPS member, Max Allport's father.
So our mystery has taken us from knowing virtually nothing about the photograph to Dulcie Smith, Queen of the Holy Trinity Sunday School in 1931 through to Dulcie Allport, aunt of current-day Society member, Max Allport.
However, Facebook still had something to add to the story with Brendan Grainger posting the following photograph from The Age, 10 Jun 1940.
As well as a being a charming photograph of Dulcie signing the register beside her groom, Dudley, it shows some familiar names among the six bridesmaids. Miss Keitha Allison (second from left), Miss Valda Smith (third from left) and Miss Edith Durstan (second from right) – all members of the court of Dulcie Smith, Queen of the Sunday School, Holy Trinity Carnival back in 1931.
---
Thanks to all those who helped in the identification of the people in our mystery photograph and the story behind it. Especially Di Rachinger and her 95 year-old father, Bill; Pat Grainger; Ray Jelley and Brendan Grainger (no relation).
---
Sources
1931 'HOLY TRINITY CHURCH QUEEN CARNIVAL', Record (Emerald Hill, Vic. : 1881 – 1954), 14 November, p. 2. , viewed 16 May 2022, http://nla.gov.au/nla.news-article164968862
1931 'Advertising', Record (Emerald Hill, Vic. : 1881 – 1954), 21 November, p. 2. , viewed 16 May 2022, http://nla.gov.au/nla.news-article164963763
1931 'Coronation Ceremony', Record (Emerald Hill, Vic. : 1881 – 1954), 28 November, p. 5. , viewed 16 May 2022, http://nla.gov.au/nla.news-article164963598
1940 'ORANGE BLOSSOM', Record (Emerald Hill, Vic. : 1881 – 1954), 15 June, p. 6. , viewed 16 May 2022, http://nla.gov.au/nla.news-article164970972
1940 'No title', The Age (Melbourne, Vic. : 1854 – 1954), 10 June, p. 3. , viewed 16 May 2022, http://nla.gov.au/nla.news-article206760459