AGM, 23 August 2022 @ 7.30pm
The 2022 Annual General Meeting of the Port Melbourne Historical and Preservation Society will be held on 23 August 2022 at the Port Melbourne Town Hall and via Zoom commencing at 7.30pm.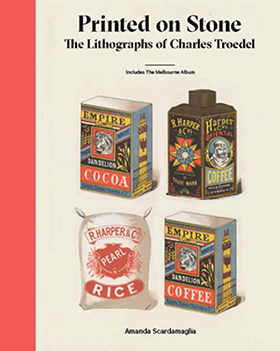 The guest speaker will be Amanda Scardamaglia who will give us a presentation entitled Printed on Stone: The Lithographs of Charles Troedel.
Charles Troedel (1835–1906) was a master printer and lithographer, and the face behind the production of most of Australia's early advertising posters, product labels, and other print ephemera, as well as the iconic Melbourne Album. Printed on Stone examines how the print technology of lithography shaped the development of the intellectual property system, and the way advertising came to be regulated. The book also presents the first visual history of print advertising in Australia and in so doing, provides a valuable illustrated social and legal history of Australia.
Copies of Printed on Stone will be available for sale to members on the night at the reduced price of $40.
The printing works of Troedel & Cooper were located in Bay Street for many years.
Amanda Scardamaglia is Acting Dean and Department Chair at Swinburne Law School. Her area of research is intellectual property law with a special focus on empirical and historical studies in trade mark law, branding, advertising and the consumer. She is author of the book Colonial Australian Trade Mark Law (Australian Scholarly Publishing, 2015). Her second book, Printed on Stone: The Lithographs of Charles Troedel (Melbourne Books, 2020) was awarded the Victorian Premier's History Award in 2020.
If you are planning to attend the AGM via Zoom you can pre-register by clicking on the following link.
https://us02web.zoom.us/meeting/register/tZAuf–vqz4qEtxOovmT59egbNJRdscbugkh