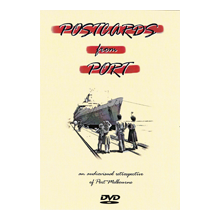 Postcards from Port
an audiovisual retrospective of Port Melbourne
Postcards from Port incorporates 9 short films, or 'Postcards', each on an important aspect of Port Melbourne's history.
Originally produced as a DVD, it sold out several times over and won the Multimedia category at the 2015 Victorian Community History Awards.
Click on the links below to view each 'postcard'.
Intro (0.41)
1. Pioneers (6.03)
2. Housing (14.04)
3. Transport (7.48)
4. Industry (9.18)
5. Workers (9.01)
6. Schools (10.25)
7. Recreation (10.52)
8. War & Port Melbourne (11.08)
9. Post WW2 Immigration (12.53)
Credits (2.43)