Beverley Stephens (nee Dredge) remembers growing up in Port. She takes up the story after her grandmother and uncle were tragically killed in a house fire as told in Part 1. After the fire, Uncle Bill decided to bring his daughter Val to 82 Evans Street so that the brothers could bring up their children together. Shortly afterwards my eldest … [Read More...]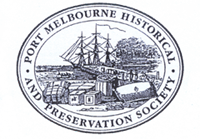 The Port Melbourne Historical and Preservation Society is a totally voluntary, non-profit, incorporated organisation founded in 1993 to preserve the identity of our historic port town.
Images must not be reproduced without prior written permission.