Benjamin Hoare, chronicler of the first fifty years of the Melbourne Harbor Trust, has little to say about Port Melbourne's twin beacons, offering merely this caption to a photograph 'Two Beacon Lights defining the centre line of the Port Melbourne Channel. Erected 1924'. There are no rocky shores, no perilous coast, on sheltered Hobsons Bay … [Read More...]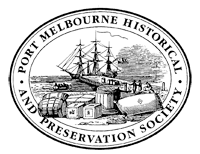 The Port Melbourne Historical and Preservation Society is a totally voluntary, non-profit, incorporated organisation founded in 1993 to preserve the identity of our historic port town.
Images must not be reproduced without prior written permission.