On an overcast but very hot day, people gathered at Princes Pier to remember Allan Whittaker. This year marked the culmination of a community campaign to recognise Whittaker, his life and tragic death. It was a time to hand on the story to the students of Albert Park College Former Supreme Court judge, Frank Vincent addressed his remarks to the … [Read More...]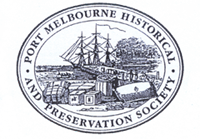 The Port Melbourne Historical and Preservation Society is a totally voluntary, non-profit, incorporated organisation founded in 1993 to preserve the identity of our historic port town.
Images must not be reproduced without prior written permission.