As the ubiquitous adoption of electronic mail and text messages on smart devices has become the norm for our daily communications the practice of exchanging Christmas cards has declined enormously. It doesn't seem that long ago that mantlepieces, sideboards, desks and even office windows were crowded with festive cards. People sent cards to … [Read More...]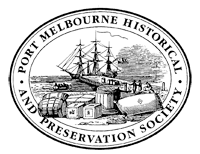 The Port Melbourne Historical and Preservation Society is a totally voluntary, non-profit, incorporated organisation founded in 1993 to preserve the identity of our historic port town.
Images must not be reproduced without prior written permission.