by David Radcliffe Crichton Reserve, as it is now known, is named in honour of J.P. Crichton who served on Port Melbourne Council for 51 years from 1905 and was Mayor five times; in 1909, 1917, 1925, 1930 and 1939. This narrow, trapezoidal slice of land was formed by the convergence of Princes Street and Stokes Street, with … [Read More...]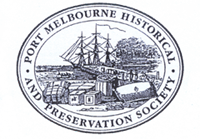 The Port Melbourne Historical and Preservation Society is a totally voluntary, non-profit, incorporated organisation founded in 1993 to preserve the identity of our historic port town.
Images must not be reproduced without prior written permission.