Fred Jackson Reserve, Garden City. Photo by David Thompson. Fred Jackson Reserve is positioned at the head of Central Avenue in Garden City, bounded by The Bend, Batman Road, Cumberland Road and the Ada Mary a'Beckett Childrens Centre. Frederick Caton Jackson was Town Clerk of Port Melbourne from 1973 to 1988. He was born on 19 February … [Read More...]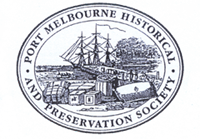 The Port Melbourne Historical and Preservation Society is a totally voluntary, non-profit, incorporated organisation founded in 1993 to preserve the identity of our historic port town.
Images must not be reproduced without prior written permission.