Seisman Street runs between Dow Street and Esplanade West near Liardet Street. Originally known as Clark Street, but unproclaimed as an official street, Sandridge Council at their meeting on Thursday 22 November 1883 approved that it be renamed Seisman Street, after the immediate past Mayor, Cr Frederick Seismann. The … [Read More...]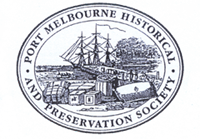 The Port Melbourne Historical and Preservation Society is a totally voluntary, non-profit, incorporated organisation founded in 1993 to preserve the identity of our historic port town.
Images must not be reproduced without prior written permission.