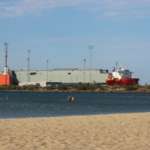 The recent arrival at Webb Dock of the Helicopter Landing Dock Ship, to be known as the NUSHIP Adelaide once commissioned, prompts a post on the arrival in Hobsons Bay of HMVS Cerberus in April 1871.
The Cerberus arrived in Hobsons Bay after 'a weary voyage of 6 months duration'. With all that iron cladding – 8 inches thick from stem to stern – the Cerberus was not that agile.  In fact it was 'pathetically unweatherly, slow and awkward'.
There was great excitement when the Cerberus arrived though it was not quite what people expected. Some adverse comments were made about its appearance being 'low uncouth and grim and looking like a half tide rock in the water, like a floating gaswork'.
However, that did not deter people from coming to have a look.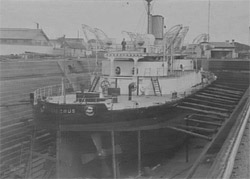 'No sooner had the iron-clad anchored in the Bay than … there was a general rush to Sandridge in order to have a look at the novelty. The boatmen at the pier drove a roaring trade, and in a very short time the decks of the vessel were crowded with a throng of gaily dressed pleasure seekers, who swarmed over every part from hurricane deck to stoke hole.'
Its arrival bolstered the confidence of the colony of Victoria and offered reassurance that 'Victorians can sleep peacefully upon their pillows, with the consciousness that Cerberus is in every way fit to fight their battles and to fight them in modern style.'
Sources and more information
Thanks to Friends of Cerberus Inc who have compiled all the newspaper articles from the period that refer to the Cerberus including  The Age 10 April 1871, and The Leader 15 April 1871

Colin Jones Australian Colonial Navies