Melbourne Cup Day prompts this recollection from member Helen Barry:
"Mum was a milliner. She was busiest at racing time. I always went to the Melbourne Cup with her. We used to walk past the members' enclosure trying to spot the hats she had made.
Rose Welsh began her apprenticeship as a milliner at Susanne et Cie at 179 Collins St, Melbourne in 1925. She was lured by the high class milliner Thomas Harrison, known as 'the Czar of the Millinery world' to his shop and workroom at De Vere et Cie, the Block Arcade, 262 Collins Street. She became 'head of the table' as they called it. She worked with him for ten years until she married.
By the time she left De Vere she was the overseer of the girls making the hats and regarded as a leader in her profession. Thomas Harrison held her in high esteem and presented her with a silver tea and coffee service on a large silver tray which was openly displayed in the showroom of De Vere for the customers to admire. She used to take hats in hat boxes on the cable trams to customers through the city.
On one occasion, she stitched a hat to a client's head using her hair. It was to look as though the wind had blown it onto her head.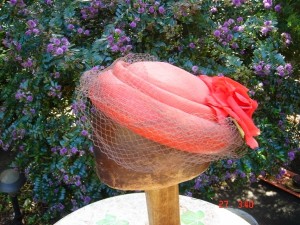 After her marriage Rose – now Barry – worked from home for Lola Canning in the Block Arcade. She made hats from her Garden City home well into her 80s. Her last employer was Wendy Mead who worked out of Toorak. She made hats for Lillian Frank and Pixie Skase. Wendy Mead would tear out a page with a hat on it from Vogue and Mum would then make it.
Many a hat was shaped around this wooden block. After mum had made the hats, dad would deliver them."
Explore further
Visit the National Gallery of Victoria's on-line gallery of the hats of Thomas Harrison. Rose Barry's hand may well have been at work in some of those hats