Langley, George Furner (Lieutenant Colonel)
Place of Birth: Port Melbourne
Age: 24 years
Enlistment Details: Thursday, 4 March 1915
Service Number: Lieutenant Colonel            view online service record
Address:
87 Bay Street
Port Melbourne, VIC
Next of Kin:
Jabez Langley (father)
Mansfield, VIC
Embarkation Details:
Date: Monday, 10 May 1915
Ship: HMAT Ulysses A38
Port: Melbourne, VIC
Unit: 21st Infantry Battalion – Headquarters
Fate:
RTA: Thursday, 24 July 1919
Discharged: Sunday, 2 November 1919
Awards: DSO & Order of White Eagle (by King of Serbia)
---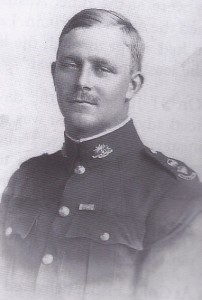 George Furner Langley was born in Port Melbourne on 1st May 1891 son of Jabez and Fanny Langley who lived above their grocery store at 87 Bay Street. The Langley family were strong Methodists so George was brought up in the Methodist tradition from which he learned his life long interest in singing. A skill he used to good effect in army camps in Egypt. George attended Nott Street Primary School then was one of the first students at the Melbourne Continuation School later renamed Melbourne High School. For a short time he was a pupil teacher at Graham Street School then trained at the Melbourne Teacher's College. After graduation he was appointed to Essendon Higher Elementary School but after less than a year he was transferred to Mansfield Agricultural High School from where he enlisted in the AIF as a private in 1914. However because he had been in the cadets for five years he was selected for officer training at Broadmeadows.
After the course he embarked at Port Melbourne aboard the HMAS Ulysses in May 1915. The expectation was that they would go to France but when the ships were in the Red Sea Turkey entered the war on the German side and these Australians were ordered to Egypt and on to the landing at Gallipoli. Just before landing he was promoted to Captain, an exciting event but rather overshadowed by the ship being hit by a torpedo. The force of the explosion blew him into the air and he fell into the hold, sustaining an injury in the fall, others were killed. After a short spell in hospital on Lemnos he went on to Gallilpoli where he recuperated in the dug-outs. When he left in December 1916 he recalled that he was in better nick than when he arrived.
In the camp at Tel-el-Kabir south of Ismailia Captain Langley heard that he was to be part of the Imperial Camel Corps, a new venture that was being set up to support the fighting in the Sinai Peninsular made up of New Zealanders, British, Indians and Australians. Only a few of the Australians from Western Australia had ever had anything to do with camels, certainly George Langley had none at all. They had to quickly learn to ride the camels and care for them in camp as well as on treks. Even learning to mount a camel was not easy. Camel bites were a real hazard as Langley wrote on one occasion: once they get a grip they hold on like a bull dog and their teeth are very nasty. There is a real danger of poisoning setting in.
Conditions in the desert were poor, sand blown by strong wind so fierce that it could take the skin off a man's face; water was in short supply and the men were often hungry. They were attached from the air with bombs and by snipers with rifles.
One of their first major engagements, very shortly after Langley joined the cameleers, was at Magdhaba when he led the 1st Battalion. The post was captured and 13,000 Turks were taken prisoner. He was mentioned in dispatches and awarded the Serbian Order of the White Eagle. While in camps George organised both training and recreational activities to keep his troops fit and their morale high. Alan Gregory in his biography of Langley writes of the Camel Brigade Sports: Among the events were the Camel Trot, Wrestling on Camels, Camel Scurry (which Langley won on his favourite camel Horace) an egg and spoon race on camels, as well as musical chairs on camels. (page 49)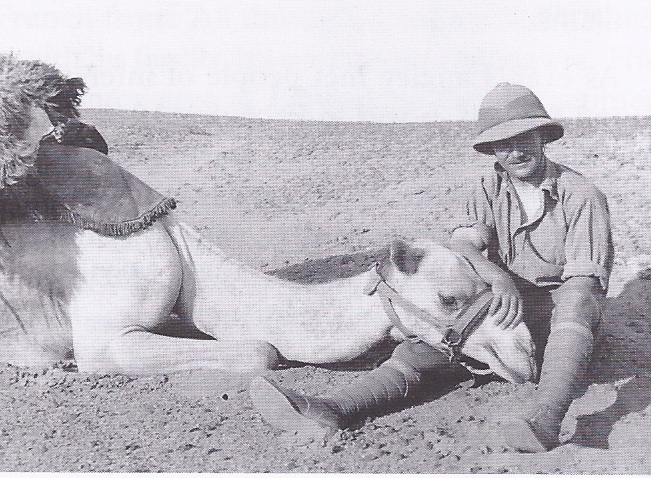 An important Turkish post was at Rafa, now one of the nearest Egyptian cities to the border with Israel. The allied attack on the stonghold began in January 1917 led by the British General Sir Philip Chauvel. Initial setbacks to the advance caused him to order a retreat but this was ignored by the Camel Corps who believed they were near success, as indeed they were. A key factor in this victory was the use of airplanes to spot enemy positions and keep the mounted troops and camel corps informed of where their attacks could be most telling. Throughout 1917 little progress was made although the allied troops under their new commander General Allenby, did advance into the Jordan Valley and to Jerusalem. The cameleers played a significant part in this advance. Of his troops in these battles George himself wrote they have come to be considered the grimmest that any soldier on any front faced during World War 1. Allenby said the sands of Sinai, the jebels of Judea and the Mounts of Moab have all echoed to the march of the Imperial Camel Brigade.
From Jerusalem the battle front moved out of the desert and the usefulness of the camels was at an end. The Imperial Camel Corps was disbanded and Langley became a member of the 5th Australian Light Horse, once again Langley's commander was General Chauvel. Langley had a key role in the taking of the city of Damascus and was awarded the DSO (Distinguished Service Order) for his leadership. Such leadership came at personal cost, something Langley rarely mentioned but Alan Gregory quotes one of his letters in which George Langley wrote:
Being blessed by nature with a facility for forgetting the awful side of war we smile except when in the privacy of our own tent. We think of all the good fellows who used to share our good times. Renewing crosses over graves and erecting others has brought this more prominently before us of late. (page 63)
Damascus was the last major battle of the war in Egypt where a cease-fire was arranged on 31st October 1918. Alan Gregory sums up Langley's four years of war service:
Langley had endured a difficult and dangerous war. He had been wounded several times, hospitalized with malaria, and risen from a lieutenant to lieutenant-colonel been awarded the Serbian Order of the White Eagle, mentioned in dispatches four times and awarded the DSO. … His richest blessing was that he came away from the war with his wife. (page 66)
Edmée Plunkett's father was in the British army in Cairo before the war. As a young woman she lived mainly in Cairo but made long visits to England for school and university. When her father died in Cairo in 1916, she was unable to return to England and worked as the secretary to Lord Cecil. She was the first woman to hold such a post in Egypt. Edmée was a gifted linguist, fluent in Arabic and French. George and Edmée met in 1918 and were married in Cairo in December 1918.
In civilian life in Victoria George Langley became a very important leader in the community as a teacher and school principal. The crowning achievement of his civilian career was to be Principal of Melbourne High School, from where he retired in 1956. He is fondly remembered by many of his ex-pupils as The Brig.
Margaret Bride
References:
The sentimental soldier: a life of George Furner Langley; Alan Gregory; Langley, Courtis, Thompson Library Trust, Melbourne 2008
Sand, Sweat and Camels, George and Edmée Langley, Lowdon Publishing, Kilmore, 1976
---
George's brother David Furner Langley also served during WWI.
1915 'INTERCESSORY SERVICES.', Port Melbourne Standard (Vic. : 1914 – 1920), 6 November, p. 3, viewed 12 October, 2015, http://nla.gov.au/nla.news-article91168162
1916 'Major Langley.', Port Melbourne Standard (Vic. : 1914 – 1920), 21 October, p. 2. , viewed 25 Oct 2016, http://nla.gov.au/nla.news-article91165180