Commemoration at Princes Pier this Sunday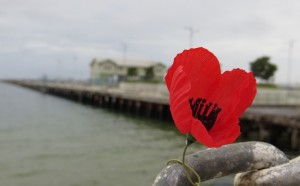 All three piers at Port Melbourne were used for the first convoy: Town Pier, New Railway Pier (later Princes Pier) and Railway Pier (later Station Pier). 
This Sunday, 19th October, Princes Pier will be the focus of the commemoration of the first convoy to leave Victoria in World War 1. A detailed programme for the event is available here. Activities will run from 4 to 8 pm, with most events on Princes Pier between 6 and 8pm.
Have a look at some of the photographs of Princes Pier from this time – can we make up such a crowd?
The PMH&PS is marking the departure dates of troops and all World War 1 events and commentary in Port Melbourne on a facebook page – Port Melbourne First World War Centenary. It is a way of keeping remembrance alive from day to day. There is also a story waiting to be researched behind many of the names that appear in the daily paper – enlisting, embarking and then ,,,?
Here is a list of all those with Port Melbourne addresses who embarked on the HMAT Orvieto – you may live in a house from which one of these people embarked. If you would like to get involved with this project, please contact us via the form on this website.
Resources and more information
The Anzac Centenary – Sharing Stories and Making Connections website is highly recommended for its wealth of resources and photographs of Port Melbourne's piers
First convoy at Port Melbourne