Allan Whittaker Commemoration 2016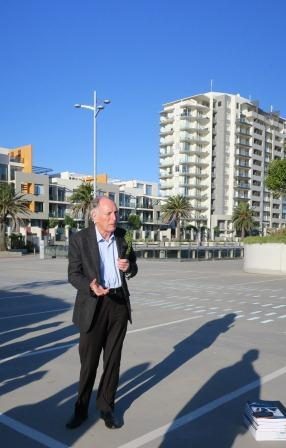 Legacy of 1928
On a (rare) sunny evening, former Supreme Court judge Frank Vincent offered these reflections on the legacy of 1928 at the Allan Whittaker commemoration held on Princes Pier on Friday 28 October. He spoke without notes.
"The question I was going to pose is 'What is the thread that joins Bernie Sanders, Donald Trump, Pauline Hanson and Boris Johnson?'
And there is a very powerful thread that connects them all, and that thread is the anger that they represent. Each of them in their different ways have managed to channel the anger of a very damaged population. The anger is very often hopelessly misdirected. In the case of Hanson and Trump and the other it became the anger of poor people internalised against other poor people. (Sanders has a broader social view of the origins of that anger but nevertheless it is there.)
It connects all of these people and their basic concern is a sense of betrayal by the system of government upon which they depend and the system of social organisation in which they live. They haven't got a political framework or a conceptual framework within which to see that anger.
But it's real and it's very deep, and it is felt in this country as well.
And in part that kind of anger comes from the failure of our structures and our systems to protect and enhance people at the lower end of the socio economic structure.
The fascinating thing about the trickle effect that people discuss is it it is never really permitted to occur. There is no adequate trickle. No one would care if Gina Rinehart has billions providing that the ordinary citizen of the community has the capacity to live with a bit of dignity and know that there will be jobs and safety for themselves and their children. But because the tap is cut off so quickly and so high, there is no adequate trickle down effect.
People are feeling vulnerable and they're feeling more vulnerable in a way because of the decline generally of union membership and a sense of union solidarity across the country. It is only slowly that they are going to begin to understand the true power of ordinary people lies in sensible combination. And that sensible combination has been reflected by our trade union movement for a very long period of time.
In 1928 when the strike was occurring across the country almost every branch had folded by the time the events occurred on the 4th November here. They had all been broken. One of the few areas where the men held on was Port Melbourne and it was here that the last significant battles were actually fought in that strike and they were fought physically as well as otherwise.
The consequence of that was that the union itself was almost decimated in this part of Victoria with very few people being able to hang on. But the ones who did created a very powerful organisation with very strong views – an organisation with a very powerful sense of social justice that extended beyond the notion of simple representation of workers in their particular industry. This branch here in Victoria was very early in the piece looking at what was happening in relation to Japan and re-armament. This branch was very early in the piece in being concerned with the protection of indigenous rights well became these rights became fashionable across the community.
And that was all born, I believe, as a consequence of the kind of struggles that occurred here and the kind of price that was paid here. I think that provided a very special focus and a power that has not otherwise been evident in our structures.
It's a sad, sad thing to see as full time levels of employment are declining and part time employment on a contract basis is increasing that people becoming more and more vulnerable to the whims and changes of business without the protection that they would otherwise have by the trade union movement and without being able to rely upon our systems of government to at least ensure there is an adequate floor for them.
What happened in '28 is by no means irrelevant to what's occurring now and we must really make sure that legacy is not lost."
More
Other speeches by Frank Vincent at previous Whittaker commemorations
Reflections on Entitlement 2014