Rosie Bray (Thrupp) wrote this piece on 15th August 2020.
Yes, August 15th 1945 was Victory in the Pacific day, and I remember it well. It meant Peace at last, and we all let out a sigh of relief when we heard Prime Minister Ben Chifley officially announce that Japan had at last surrendered.
The news was not unexpected as Victory in Europe occurred on May 8
th
1945 and we all hoped that it was only a matter of time before the Allied Forces would concentrate on the war in the Pacific. When the surrender was announced on August 15
th
1945, the ordinary Australian had already heard that there were two 'big bombs' dropped on Hiroshima on August 6
th
1945 and Nagasaki on August 9
th
1945. These helped to hasten war's end. The majority of Australians who had had enough war/killing, thought, well at least it helped to end the war. Nobody had any idea these events would have such dreadful repercussions with so many innocent victims either killed or maimed for life. To be honest mum and I did not care much at the time.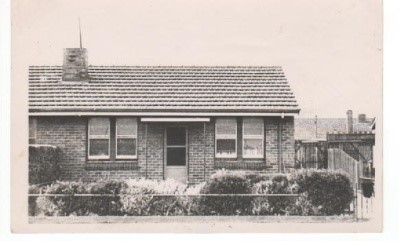 We lived at 32 Gellibrand Road, Garden City and felt that we were 'sitting ducks'. My dad had already been killed fighting in the Middle East in June 1941. Our housing location was one street from the Commonwealth Oil Refinery, one street from the Port Melbourne Docks, not far from the ammunition factories in Salmon Street and the same distance from the Yarra River where the cargo ships berthed to load food etc for Britain. Every night without fail the sky would be alight with search lights (it would be like daylight at night time). Frankly it could be scary. So when the news came through, mum and I were just so relieved that it was peace at last.
On the actual day on which the official announcement was made, I went to school at J.H. Boyd College, City Road, South Melbourne as usual. During the morning classes the students were herded into the Gymnasium/Assembly Hall. We found that many of the teachers were laughing and crying at the same time, so instantly we knew something really important had happened. The Principal, Miss Llewellyn, told us that the Second World War was over and we were dismissed from school and to make our way home.
Great news for a student! My dear friend (still is) Margaret Halfpenny could walk home, but I had to catch a bus to Garden City . . . So, over to the bus stop I went and found quite a crowd waiting already . . . After some time it was evident that there was no transport running . . . What to do? I was a long way from home and did not fancy the long walk home. To wait seemed a good idea.
Then, along the road came "Paddy the Woodman" with his light draft horse and low wagon. Paddy was as Irish 'paddy's pigs' and used to deliver wood to our house. I called out "Hey Paddy, can you give us a lift?" "Sure lassie jump on board and I'll take you to Graham Street," came the reply . . . Many others who were waiting for a bus also jumped on the wagon. We all sat with our legs trailing over the side of the wagon, waving to the passersby. Plod, plod, plod went the old horse, and as we approached the bus stop nearest to the South Melbourne Market, Mrs Miller from 18 Gellibrand Road was waiting for a bus. I called to Paddy, "Could we give Mrs Miller a ride too?" Paddy pulled his old horse up to a halt and we hauled Mrs Miller on board and off we went again. At Graham Street, Port Melbourne, Paddy called "End of the penny section, far as I go". We all thanked Paddy very much for his kindness and I still remember his generous spirit the day World War Two ended. Thank you Paddy the woodman.
When I arrived home, mum was sitting with Mrs Smith (next door). Both had been crying. Mum just said "Well, it's all over Rosalie" and that's all that could be said.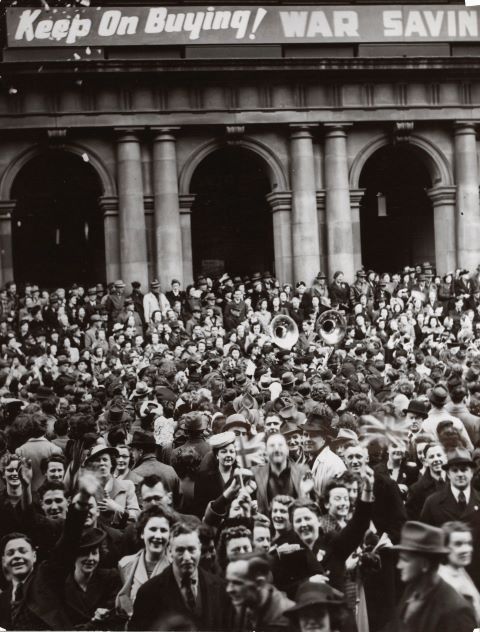 That night most of the people from Gellibrand Road joined the festivities in Melbourne to celebrate the momentous occasion. Mum and I shared our relief with others that it was all over and accompanied Aunty Sis Peat (Number 48) and Mrs Smith (Number 34). We also went back the second night. The crowds were enormous both nights, so much so that you did not walk, you just got carried along. We all had to be careful and keep together. Transport on these occasions left from Flinders Street extension. Mum and I had sad hearts. We were glad that some of their men and women were coming home, but we were sad that our dad was buried overseas and away from us.
Did I expect to still be alive to celebrate this day 75 years ago? The answer would be "No!" So I am very thankful to be able to tell my little story and adventure of August 15th 1945.
I would like to pay a tribute to all those who served and sacrificed their lives to keep Australia free. R.B.
Dedicated to my mum and dad and to Pat Grainger (Port Melbourne Historical Society) who has always encouraged me to write my 'life and times'.