In 1840 there were the two hotels and only a few houses at The Beach from where a winding sandy track led across the Yarra and into Melbourne.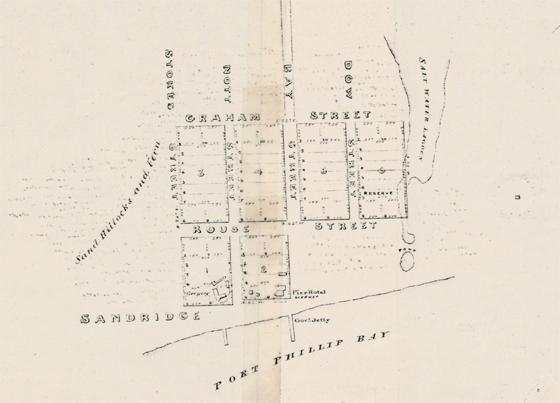 By 1850 Sandridge, as Port Melbourne was then called, was a bustling landing place with a well laid out grid of streets with houses, workshops and warehouses.
Many of the houses were flimsy and ill built of cast off timber from ship and from green saplings cut on site. These dwellings contributed to a view that it was of all places in Victoria, the most undesirable place for residence, because of its abundance of sand and its ever attracting armies of fleas.
In 1842, apparently without warning wool prices in Europe collapsed and the new district was thrown into a prolonged depression. In Sandridge the men previously employed as boatmen, labourers and warehousemen lost their income. So many were suddenly without income that the government paid for some of them to build a road from Sandridge beach to Melbourne. In 1849 the first substantial jetty was built.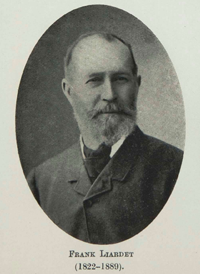 Incoming mail was unloaded on the sand and taken to Melbourne by various members of the Liardet family who had been awarded the contract for this service by Benjamin Baxter the first post-master of the Port Phillip District.
In 1842 Frank Liardet took the mail from a ship in Hobson's Bay and rowed it all the way into the city through the flood waters that covered all the land between Sandridge Beach and William Street.
Frank took up land near Frankston. The Ballam Park Homestead that is now open to the public was built for his brother, Frederick. Frank Liardet in later life, State Library of Victoria, (right). 
The lower Yarra flowed between ill defined banks easily overcome by flood water pouring downstream that then filled all the low-lying swampy area on its south bank. There were serious floods in 1842, 1844 and 1849.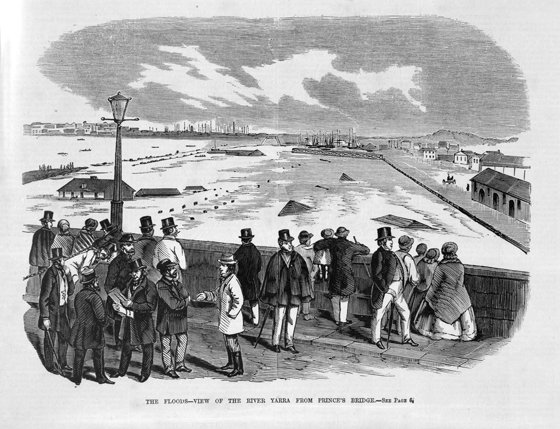 There are no images of these floods but this sketch of the flood of 1863 gives some idea of how severe they were.