First container ship to visit the Port of Melbourne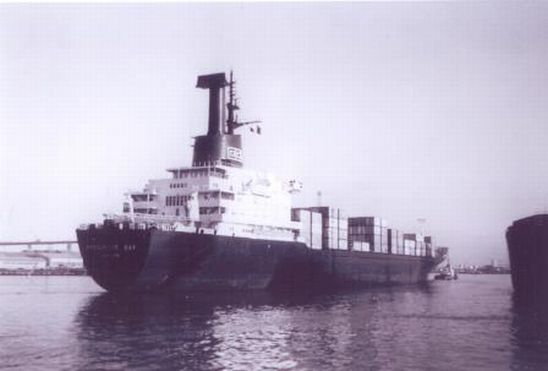 This first blog post takes a Port theme, following the government's recent approval of the Port Capacity Project.  A recent Port of Melbourne publication says that
"In the 2011-12 financial year 2.58 million containers – 20-foot equivalent units (TEU) were handled by the Port of Melbourne and container trade is predicted to double over the next 10 to 12 years."1
There was a time not that long ago when using containers for transporting  cargo still lay ahead. So for this first foray into the Society's collection, I took the container as the cue and looked at some articles in the 1966 issue of the Port of Melbourne Quarterly which discussed the imminent container revolution.
"A footloose warehouse, the van container is earthquaking the shipping industry. Rail, truck, water and even air carriers are in a literal frenzy of adjustment to what is happening."2
By 1967 the magazine was reporting that " … a new era in the entire system of transporting goods by sea, road and rail between points of origin and destination in the two areas (England and Australia) will come into existence in 1969. The consortium concerned is Overseas Containers Limited, which includes the large P & O group of shipping companies … An entire new dock complex, the Swanson Dock is being built. 3
Member Glen Stuart has provided a picture of that very first container ship – OCL's Encounter Bay, which arrived in Melbourne in 1969 on her maiden voyage. The vessel was the first container ship to berth at no 1 West Swanson Dock. The picture above shows the Encounter Bay in later life in the Yarra River. Compare the modesty of this ship with those currently arriving at the Port of Melbourne.
The contribution of the container to globalisation is the interesting subject of 'The Box: How the Shipping Container Made the World Smaller and the World Economy Bigger' by Marc Levinson.
Sources
1 Statistics: Expanding Melbourne's Port Capacity 7-12
2 Port of Melbourne Quarterly July to September  1966, p38
3 Port of Melbourne Quarterly, April to June 1967, p16