Recently Mark Nettleton wrote to us about two football clubs from Garden City that played in the Melbourne Amateur Sunday Football Association during the 1950s.
Garden City Football Club played their home matches at Garden City Oval No. 1 (now known as R F Julier Reserve) while the Sandridge Stars Football Club were based at Oval No. 2 (now known as the T T Buckingham Reserve).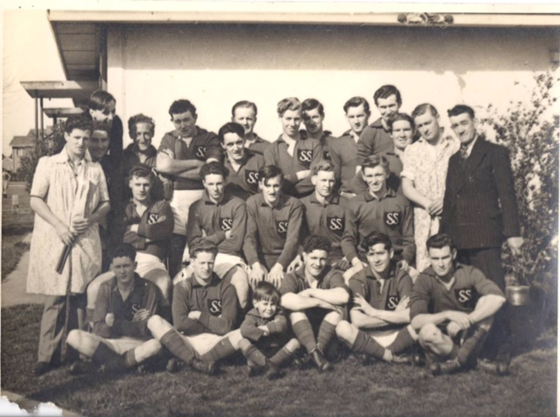 This photo of the Sandridge Stars has two bona fide Port Melbourne stars. Both made their debut for Port Melbourne Football Club in 1952 and just over fifty years later, both were named in the PMFC Team of the Century.
The first player sitting on the left of the middle row, next to the goal umpire, is Bob Withers. Withers played 137 games for the Borough. The tall, wavy-haired young man in the centre of the back row is Port's star forward Bob Bonnett. He played 227 games for Port and was PMFC's leading goal kicker each year from 1952 to 1963, also topping the VFA goal kicking in '56, '57, '58, '61 and '63.
There is, however, a more personal side to the Sandridge Stars story and that is the Nettleton family connection to the team.
There are three Nettleton brothers in this photo. That goal umpire standing to the left of the middle row, next to Bob Withers, is Mark's uncle, Jack Nettleton. The third player from the left in the front row, next to the mascot, is Mark's uncle, Ben Nettleton and next to him is Mark's father, Bill Nettleton.
And that's not all. The house in the background, 12 Weeroona Street, was where Lillian Nettleton lived. Lillian was Ben, Jack and Bill's mother and Mark's grandmother. No. 12 wasn't just a good spot for a team photo. It was used as change rooms for the team and for club social functions. A true reflection of the community spirit of the area at that time.
Mark goes on to say that he believes the man on the right wearing a suit and carrying a billy is the coach, Charlie Bond.
What do you know about Garden City FC or Sandridge Stars FC? Can you identify anyone else in the photo?