Lost Shops of Graham Street
Shirley Videion recalls the shops in Graham Street before the construction of the Graham Street overpass:
Graham Street was blessed with milk bars. The two most preferred by our group when walking on a Sunday were McCarthy's next to the double storey house on the corner of Graham Street and Evans Street or McKenzie's on the other side of the Graham Station on the corner of  Graham Street and Station Street. This was a double fronted milk bar reminiscent of the soda bars of the American teenagers. The milk bar section on entering had numerous double seats set cubicle like either side of the door with the milk bar opposite the door. The lolly shop was a separate extension. There were always groups of teens gathering at this popular spot.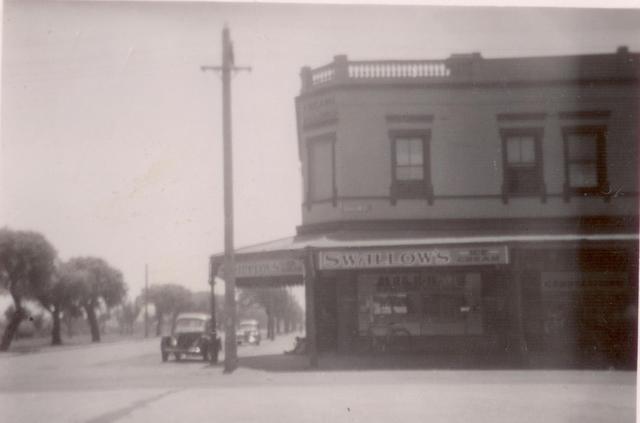 On a Saturday morning I would cycle over the Graham Street gates to Caton's the butcher in Graham Street, one door from Princes Street. I would try to get there by 7.30 am to avoid the crowd. It was an era  before supermarkets and shopping consisted of waiting three and four deep by a counter to be served one at a time. My mother had a penchant for the best quality food and Caton's was the best quality butcher. The alternative butchers were on the opposite side of Graham Street, one of them a few doors from Clark Street, the other three doors from the hotel on the corner of Ross Street. The chemist A'Hearn was next to the hotel on the corner.
The grocery shopping was a nightmare on a Saturday morning. Scoble, and later McLennan's grocer shop on the corner of Graham and Clark Streets also had shoppers three and four deep lining the counter. the grocer and his assistant would tend to one shopping list at a time while everyone else was sighing at the length of the list being attended to. All shops closed at midday on Saturday.
Happily Simmons fruit shop on the corner of Graham and Albert Street was a little more orderly.  Tucked down Albert Street, about six houses down from Graham Street was a place known as the ham and beef shop, where a woman specialised in cooking and selling corned beef. The post office was also on the corner of Graham and Albert Streets and also sold lollies, newspapers and comics.
But the greatest treat for me was Sidaway's Milk Bar in Graham Street, between the butcher and the fruit shop. Mrs Sidaway's hobby was to run a lending library. This was our only access to a library, as the council library was too far away, off Bay Street. Mrs Sidaway did not have many children's books or comics but she had a good range of adult books and instead of the unknown (to me) Australian boys and girls stories I indulged myself with many adult wartime biographies, battle stories and murder mysteries.