The first Australian railway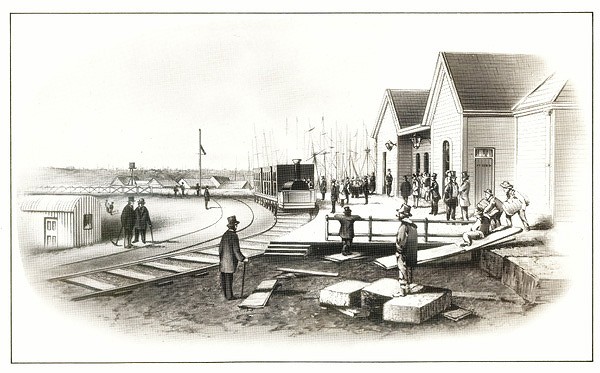 Flinders Street Station c1854. Australia's first railway. Sketch by S.T. Gill showing the first station buildings and the single line from Sandridge.: Culture Victoria
'Yesterday was memorable in the annals of Victoria and of Australia, for the opening of the first Australian railway' (The Argus 13 September 1854)
On 12th September 1854, the first journey on the first steam railway in Australia was taken between Melbourne and Sandridge. The railway may only have been 2 and 1/4 miles long, yet as one writer boldly said, it was "the parent of the 25,000 miles of railway in Australia today."
The discovery of gold and the attendant population explosion had highlighted the need for a more efficient connection for passengers and cargo between Hobsons Bay and Melbourne than the tortuous course up the Yarra. The Melbourne and Hobsons Bay Railway Company was formed to raise capital and to build the railway.
Four steam engines were ordered from England for delivery in May 1854. A month later, with the line completed and still no sign of the engines from England, engineers were asked to quickly build an engine which was assembled at the Sandridge Terminus depot.
To celebrate the occasion "A festal excursion by rail from Melbourne to Sandridge, numerously attended and of the most pleasant description' was held. The refreshment 'set forth was an agreeable surprise to those who imagined the affair was to be on the cheap and shabby system." Public traffic began the next day and straight away it was well patronised.
The Port Melbourne train line was closed in October 1987  (a move that was both mourned and resisted)  to be replaced with light rail – all part of a broader government strategy to open up redundant industrial and railway land for redevelopment.
In 1993, the viaduct at Queens Bridge which connected the Port Melbourne line with Flinders St Station was demolished to make way for the Casino. The Sandridge Railway Bridge, after lying neglected for many years and after many public debates about its future use, was brought back to life for the Commonwealth Games to tell Melbourne's story of immigration. The bridge is striking for the angle at which it crosses the Yarra as illustrated in the photo below.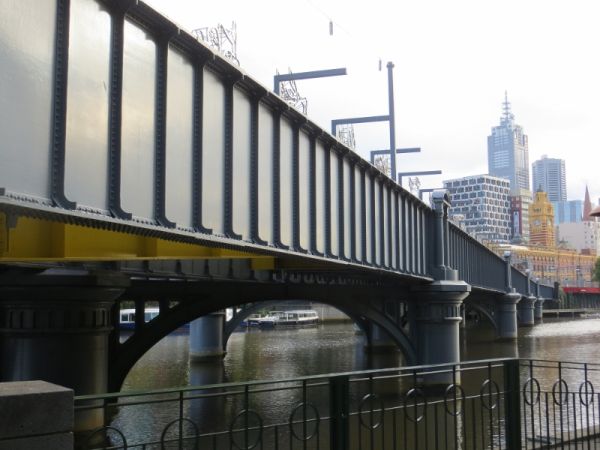 David Maloney at the National Trust wrote passionately in defense of the heritage significance of the railway "The singular importance of this route is emphasised by the uncompromising manner in which it cuts across Melbourne's north-south grid layout. The industrious solidity of the Sandridge rail bridge skews dramatically across the Yarra like a giant signpost pointing to the port and the world beyond."
There are many rail experts out there – please notify PMHPS of any errors or if you have further information.
Sources and further information
The Argus Wednesday 13 September 1854, p5
David Maloney Trust News March 1990
David Maloney Trust News, October 1992 for strong arguments on the historic significance of the railway
undated typed notes in the PMHPS files, no author, but very detailed information