A Soldiers Story: Private George Williams (1895 – 1975)
In 1998 the Society received a donation of a framed mounted photograph and medals of a World War 1 soldier donated by his daughter and granddaughter. They wanted it preserved because there was no one left in the family to whom it could be left.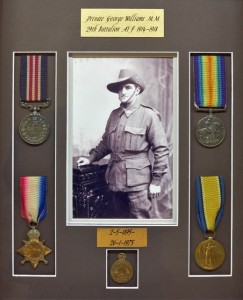 The photograph and medals belonged to George Williams who served in the 29th Battalion in France as a signaller from 1915 to 1918.
He was 20 when he enlisted in Melbourne on 13 July 1915. He embarked on 10 November 1915. A labourer, he was 5' 5" tall, with brown eyes. He was a Presbyterian.
At 20, he still needed the signature of his parents to join up. Both of his parents were dead so his brother Edward, who lived in Coventry Street, South Melbourne, signed the application as George's guardian.
George's place of birth on one copy of his enlistment form is Port Melbourne, and this is the place of birth recorded on the official war records. However, intriguingly, on another other copy of this form his place of birth is recorded as Port Albert. And it does appear he did have a family connection to Port Albert because other family members lived there.  Mrs M Gabel of Port Albert, probably his sister, later became his next of kin because his brother Edward had also enlisted.
In July 1916, George received a gunshot wound to the hand and was hospitalised in England. He was hospitalised on several other occasions including for Trench Foot, which is a medical condition caused by prolonged exposure of the feet to damp, unsanitary and cold conditions.
George was awarded the 1914 – 1915 Star, a campaign medal of the British Empire for service in World War 1, the British War medal and the Victory Medal.
He also received a bravery medal, the Military Medal, awarded for
"showing bravery and devotion to duty on 28th and 29th July 1918 when his company was out of touch with headquarters, except by runner, he laboured for five hours laying a line to headquarters … under heavy barrage of shells .." (J. Talbot Norris, Major-General Commanding Fifth Australian Division)
The Society subsequently had the framing repaired because one of the medals had slipped and was attached to the photograph.
References and further information
George Williams' full military history can be seen at the Mappingouranzacs link
http://mappingouranzacs.naa.gov.au/details-permalink.aspx?barcode_no=1807424
Austin, R J  1997. Black and Gold: the History of the 29th Battalion, 1915-1918, McCrae, Vic; Slouch Hat Publications
Grainger, P 2011 Talk given to the PMHP&S on Private George Williams on the 24 January 2011